Tyme Iron Review: Does it Work?
Sponsored Links:

Sponsored Links:

About Tyme Iron
Tyme Iron (often stylized in all caps, TYME Iron) is made of titanium and marketed as a high end curler and straightener which can achieve dramatic results.
How Much Does Tyme Iron Cost?
Tyme Iron can be purchased directly from the official website (tymehair.com) for $190.
Screen Shot
Below is the tymehair.com website, as it appeared in November 2015. As of mid-2016, the new "official" website is TymeStyle.com.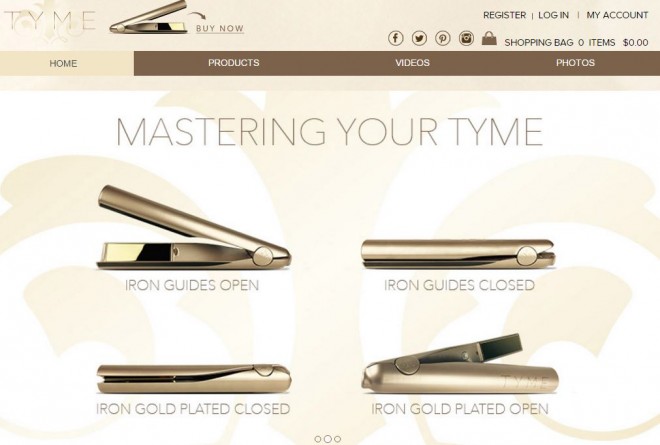 Review & Observations
Obviously as a bald man, my experience with Tyme Iron is relegated to the experience related to me by my wife, who recently tried the product.
There are a number of elements to consider when evaluating Tyme Iron. First is construction. In that regard, this product stands heads and shoulders above typical curling irons. With gold-plated titanium plates and sturdy construction, the durability of Tyme Iron is the most irrefutable "pro" of this product.
Next, it is beneficial to take a look at some of the key features. Perhaps the most controversial is that the heat setting only has one temperature of 400 degrees. This cannot be changed, and some consumers have expressed dissatisfaction with this. The makers have pointed out that they feel 400 degrees is the best temperature for curling and straightening hair, and that most people don't use the proper heat setting. Despite this explanation, this feature doesn't sit well with some consumers.
Sponsored Links:
The fact that Tyme Iron can be used as a straightener and curler is one of its key selling points. While straightening is straightforward (pun intended), the technique to achieve curls may feel foreign to some users. Their videos compare it to revving a motorcycle handle.
If you find that higher heat is harsh on your hair, you may want to invest in a bottle of heat protection spray as you use this product. These can be found for under $10 at drug stores and retailers.
Perhaps the biggest make or break concern is that of cost. At nearly $200, Tyme Iron is 10 times more expensive than an inexpensive curling iron.
My wife was able to try out Tyme Iron, and she found that the straightener portion worked easily and flawlessly. It took some time to achieve curls and to master the curling technique. Surprisingly (at least to me), she found curling the right side of her head easier than the left. It would appear that the "motorcycle" technique feels considerably different on each side of the head.
The curls she achieved looked more like waves than curls. The result was pleasant, but not dramatic.
It would appear that mixed reviews could be affected by technique and hair type. My wife has relatively thin hair, so it's possible that those with thicker hair may have a very different experience.
Over on Epic Reviews, Tyme Iron currently sports a 4-star mark with over 350 ratings.
Bottom Line
Tyme Iron is a well-made, but expensive straightener and curler. While the straightener worked flawlessly out of the box, achieving curls as depicted on the product website takes a technique which requires a learning curve. Different hair types seem to have different experiences.
If you don't mind the temperature setting, and have patience to learn how to use it properly, Tyme Iron appears to be an excellent, albeit expensive, tool.
Your Tyme Iron Review
Have you used Tyme Iron? What did you think of it?