Television Advertising Highlights: August 4, 2015
Sponsored Links:

Sponsored Links:

TV Ads
While by no means comprehensive, below I will touch on some of the notable new and hot advertisements airing the first week of August, 2015.
Food
Marie Callender's is running a spot featuring a series of images of mouth-watering home-cooked food in its attempt to get you to buy its Country Fried Chicken & Gravy frozen dinner. I only wish a TV dinner could ever taste as good as what the stuff they're making in this ad.
If that doesn't make you hungry, then maybe a promotion for the Wendy's Spicy Chicken Sandwich will do the trick. That spot tempts a couple to not think about their sandwich by suggesting they think about something else, like European countries such as Hungary. Clever.
Dave and Busters and Carl's Jr. are also ramping up ads this week.
Apparel
The Jordan Super.Fly 4 shoe pulls out all of the punches, enlisting NBA star Blake Griffin and Looney Tunes character Marvin the Martian – who interrupts the star – in a spot for the new shoe.
Back to School
Retail giants Target, Walmart, and Kmart are all promoting Back to School ads. Walmart shows a boy working out as he prepares for the new school year, while Target shows kids performing with animated school supplies to a generic version of The Jackson 5's ABC. Kmart shows a boy in a series of outfits as part of their Back to School $25 promotion.
Dairy Queen has a sort of anti-back to school spot for its DQ Rolo Minis Blizzard, in its ad entitled Summer's Not Over. "I'm holding onto my summer," a defiant DQ school-age customer declares.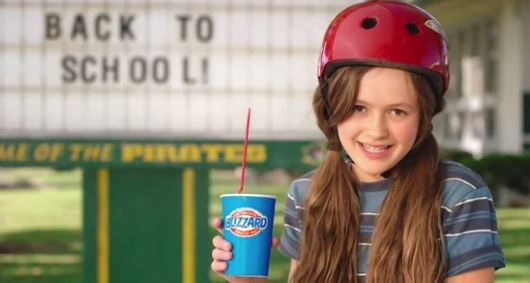 Sponsored Links:
Tech
Apple and Microsoft's campaigns for Apple Watch and Windows 10 appear to be winding down. Toshiba is increasing its ads for the Satellite Radius laptop, while Dish is heavily airing its 2-year price lock – to the sounds of a modified version the 1990's Montell Jordan's hit, "Dish is how we do it…" Dish appears to be hitting sports channels as the NFL preseason approaches. I'm also seeing a surge in ads from Salesforce, which is a service that is designed at generating leads.
Beverages
Several beverage campaigns are in full swing.
Bud Light. Its Summer Bucket List shows teams of bubble ball participants enjoying their day with a case of Bud Light.
Coca-Cola has a slow motion spot which likens their soft drink to the thrill of a roller coaster (that might be a stretch there guys, but I do love Coke).
Coors Light has a sort of Miami nightclub theme for its newest spot Refresh Your World, although I can't say I've ever seen a Coors Light at a nightclub before.
Dr. Pepper offers us a world full of people sporting bowl hair cuts, but after a sip of Dr. Pepper, our star gets a different haircut, only to lock eyes with a cute girl who also has a non-bowl cut. "Dr. Pepper: Always be one of a kind."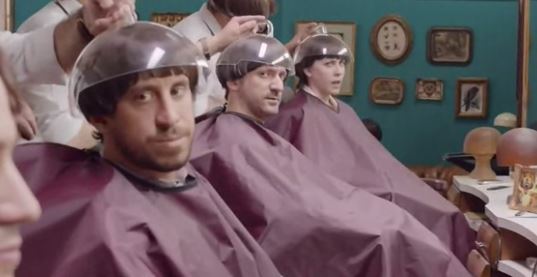 Politics
In a category which will only get worse over the next year and a half, this week we saw spots by Chris Christie, such as his Protect the Homeland ad, in which he states that he's the only candidate who has prosecuted terrorists. Hillary Clinton also unveiled a spot which focuses solely on her mother, Dorothy Rodham.
As Seen on TV
Shapers and supports are all the rage in 2015. Earlier in the year, the waist trainer Genie Hour Glass was heavily touted, although that appears to have been replaced in recent months by the similar Miss Belt. A back posture product called Royal Posture appears to be posturing itself to be the next big As Seen on TV back brace. Time will only tell, as most TV pain relief braces tend to disappear within months.
Conclusion
Those are the television highlights as of August 4, 2015 as I see them. I'll check back in soon for more commentary on the world of TV advertising.