Cosol Tours St. Lucia Review
Sponsored Links:

Sponsored Links:

Cosol Tours
Most passengers on the Royal Caribbean cruise I was on agreed that the excursions booked through the cruise line were overpriced. After reading up on TripAdvisor, I decided to book online directly with Cosol via the website (cosol-tours.com).
Here is my full review of Jewel of the Seas.
Below is a summary of my tour, taken on January 28, 2015, followed by my personal observations of the tour.
As I exited my cruise ship (Jewel of the Seas), I saw excursions via my cruise line right outside. To find my Cosol guide, however, I had to exit the port area. There I found someone with a Cosol sign – along with several other tour guides hoping to get my attention.
There were about 36 people who assembled in the area for Cosol, which broke down to three tour buses. My group of 10 was assigned to a driver named Sam. The bus was clean and the A/C worked fine.
The early part of the tour was underwhelming as we drove through impoverished areas while Sam explained the local foliage. One of the early stops was a banana plantation along a road. We were shown the various stages of banana plants and given a banana to eat.
Another early stop was for a birds-eye view of the coast. We were met with several vendors, who were friendly but bordered on pushy in their attempts at selling their offerings. Despite that, I ended up buying a couple of items to help out the locals.
After a few more similar pit stops (views + vendors), we arrived at breakfast. Other tour buses were already there, and this is where we finally met Cosol himself, who hosted the event. Several tables were set up with an assortment of foods. As we entered, we were offered beer (Pitone), rum punch, water, or soda at no charge. Cosol introduced himself, and asked that everyone finish all of the food. He also shouted, "Drinks are on me!" We were encouraged to eat as much as we wanted, and to take additional drinks along with us for the ride. I grabbed a couple of Pitons for the road.
Sugar Beach
Perhaps the highlight of the tour was Sugar Beach, with its spectacular views of the Pitons and crystal clear water. To get there, we drove to a nearby beach where a set of boats waited for us. As we walked to the boats, several children and teenagers attempted to sell us items they had made. I gave one teenage boy some money for a grasshopper he made out of leaves.
About 24 of us loaded onto a boat and took about a 10 minute ride to Sugar Beach. We were told that we had an hour to spend there before they would pick us up. This beach was clearly a resort area, and in no way resembled the impoverished areas we had driven through all morning. It was upscale and secluded, the sand was white, and the water may have been the clearest I've ever seen. I shot some underwater video and it clearly showed people dozens of yards away (see video below).
There was a 2-stall restroom at Sugar Beach, and it was about a 10 minute wait in line to use one of them. We were told that we could use our towels on the beach, but we couldn't use anything from the resort, such as chairs or umbrellas.
Sponsored Links:
Precisely an hour later, the boats pulled up. We loaded up and went back to where we left off.
Volcano and Mud Bath
The next stop was the volcano and mud bath. Although the attraction was crowded, peopled moved through it rather quickly. I first entered a watery mud bath, then exited to an area where thicker mud was applied to me. I then re-entered the watery mud bath, and finally rinsed off in the showers. The entire process took about 20 minutes. Overlooking the mud baths is a steaming volcano, which fills the air with a rather strong and unpleasant sulfur smell. I was able to pose for a couple of pictures here as well. Sam said that, although it emanates steam, the volcano is dormant.
Waterfall
After the mud baths, we went to a water fall. There was a short uphill walk, and then I simply walked into a small pool of water filled by the waterfall above. Everyone took turns going into the fall to take pictures. The water was colder than I expected, and the water pelted my head pretty hard. It was exhilarating, but very quick because there was a line of people behind me waiting to use it.
Tour Concludes
After the waterfall, we went to yet another scenic stop, this time next at the house from a nice woman named Gloria. We were given bread shaped like drumsticks, and mild cheddar cheese. There was also a large selection of drinks.
We drove straight back the the port area, and arrived around 4pm, which seemed to cut it rather close as we needed to be back on the ship by 4:30.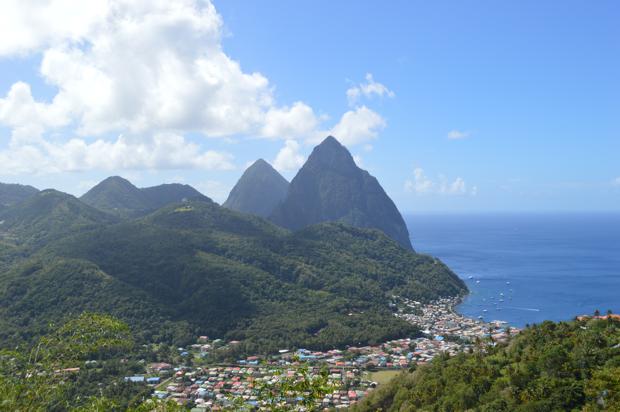 Observations
If one were to judge the tour primarily on the highlights listed above, it would certainly be deemed a fantastic tour. Below are my observations about what I liked about the tour, and what could have been improved.
What I liked
I knew little about St. Lucia before this tour, and now I feel that I have a good sense about what the island is all about.
The inclusion of food and drinks is a classy move. The inclusion of alcohol is genius.
Some of the key stops were essential, and I'm grateful to have experienced them, such as Sugar Beach, volcano/mud bath, and the waterfall.
What Could have been improved
While not unique to St. Lucia, the avalanche of local vendors can be a distraction. Most of them were friendly, however.
Although we hit many of the major attractions of the island, it seemed that much of the tour was simply driving from one location to another, without much to see of note.
Other considerations
Cost. $75 per person. Depending on your expectations, this could be seen as a bargain or a ripoff. Due to the fact that food, drinks, and multiple essential stops are made, I tend to think it was a pretty good deal.
Guide. Sam was a nice enough guy, but I'm guessing he doesn't have the same appeal or charisma that Cosol himself does.
St. Lucia is a beautiful island, but upon the conclusion of my tour, I didn't feel any burning desire to return, other than maybe to the resort at Sugar Beach (which isn't really representative of the rest of St. Lucia).
Video
Below is a video summary including most of the highlights of my tour.
Bottom Line
Cosol Tours does a fine job of giving you a sampling of the highlights of St. Lucia. A 6-hour tour which includes food, drinks, and key highlights of the island is probably a good deal at $75 per person.