One Second Slicer Review: Does it Cut it?
Sponsored Links:

Sponsored Links:

About 1 Second Slicer
This product, written either as "1 Second Slicer" or "One Second Slicer" is one of a seemingly endless line of kitchen slicers advertised on television. The product works by placing items to be sliced on top of a blade. The hinged lid is then closed onto the items, pressing them through the blades and into the container below.
The official product website is onesecondslicer.com, which was registered back in December 2013. From the Google Trends chart below, it appears that this product did not begin significant advertising until late 2014.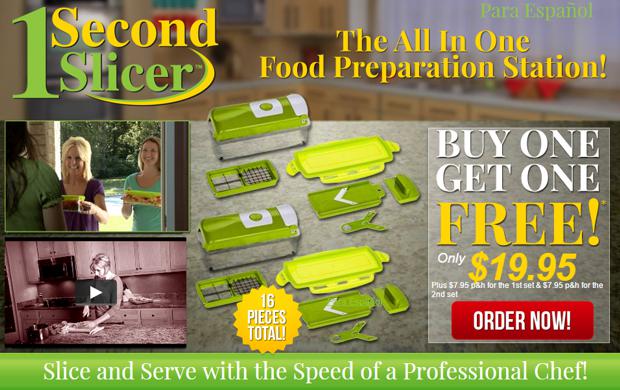 What the 1 Second Slicer Claims
Stainless steel blades
Slices, dices, chops, cubes, minces, and Juliennes
Serves, seals, stacks, and stores all in the same container
The size of a loaf of bread
Works for fruit, vegetables, meat, and cheese
What the 1 Second Slicer Costs
Online. You can purchase the 1 Second Slicer for $14.95 plus $7.99 shipping. A second set can be obtained for another $7.95 shipping.
In stores. The 1 Second Slicer is available locally in stores such as Kmart and Bed Bath and Beyond. You can typically find it in the As Seen on TV or kitchen sections for about $15-$20.
1 Second Slicer Reviews: Does it work?
Although the 1 Second Slicer has only recently appeared in television advertising, my first thought upon seeing it was… I know I've seen this before. And, as it turns out, I was right.
1 Second Slicer looks very similar to an older As Seen on TV product called the Vidalia Chop Wizard. That product is still available, but its marketing campaign ended long ago. It still holds relatively high ratings online, however. Both products sport similar designs and claims. (Another reviewer stated that the Chop Wizard is primarily for vegetables, which is not true.) The more I investigated, the more products I found that didn't just look like the 1 Second Slicer, they appeared to be the same product. Take this "All in One Dicer" video posted back in 2013. There is also this video from 2013 which advertises a "Multi-functional Vegetable and Fruit Slicer."
Sponsored Links:
As with most As Seen on TV choppers, the blades often arrive quite sharp, but sometimes tend to be flimsy as well. There is a certain learning curve involved in order to make this slicer work properly. Some consumers have been known to break these slicers perhaps due to a mistaken idea that they are highly durable. Note: "sharp" and "durable" are not synonymous!
With nearly 50 reviews at Amazon, One Second Slicer holds a 3.7 star rating. Depending on how you use it, your satisfaction will likely vary. Some reviewers have said that harder cutting jobs such as potatoes were too much for the product, while softer items such as onions were handled as advertised.
Reviewers for the Vidalia Chop Wizard and the Genius Nicer Dicer have said that for the best results, you're better off cutting your fruits and veggies in half before attempting to chop them. I found this to also apply to the One Second Slicer.
You can find a number of similar dicers with a simple Amazon search.
History
The chart below shows the Google search popularity of this product. It peaked around the end of December 2014 and has had smaller surges throughout 2015.
Conclusion
The One Second Slicer is an As Seen on TV dicer which looks remarkably similar to other dicers which have been on the market for years. Despite some questions about durability, reviews for the product are generally positive. How you use the product will likely determine your own level of satisfaction. While slicers such as this are in fact sharp, they are not always as durable as some consumers may expect.
Your Turn
Have you used the 1 Second Slicer? Let me know what you thought in the comments below.
Updated December 20, 2015
First published April 2015