Surfcomber Hotel Miami Review: Courtyard King Deluxe Room
Sponsored Links:

Sponsored Links:

I spent 4 days at the Surfcomber in August 2014, and below are my observations from that visit. As standard with any review I post, I look for the positives as well as any potential negatives for other travelers (even if my own experience was uniformly positive).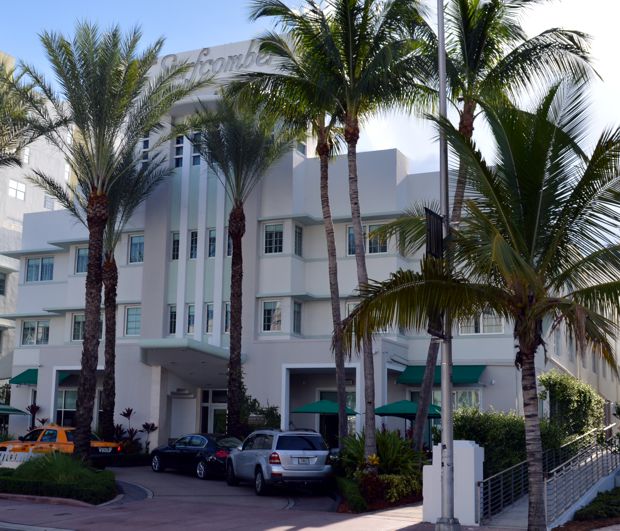 The Hotel
Surfcomber is a small-ish hotel on Collins Avenue at 17th Street in Miami Beach. It is neighbored by the SLS South Beach Hotel, just to the South.
Pros
Excellent staff
Ideal location, walking distance from the Lincoln Road Mall, Ocean Drive, and many shops. Several gift shops, restaurants, Walgreens, and CVS are all steps away.
The hotel offers several freebies such as wine tasting, beach chairs, towel and sunscreen, and assorted drinks in the lobby.
Direct beach access at the rear of the hotel through the pool area.
Large pool, open 24 hours.
Cons
Because there were no "Do Not Disturb" signs to place on the door handles, three out of four days I was awakened by a staff member knocking to see if I wanted my room cleaned.
Other
I did not rent a car, but I understand there is only valet parking available for $39 a night.
The Staff
The pairing of a small hotel with a top-notch staff is a match made in heaven. While I would not say the hotel or the rooms are perfect, the staff at the Surfcomber connects with its guests in a way larger hotels cannot. Every doorman and bellhop greeted me like I was an old friend whenever I left or returned to the hotel. Every staff member said hello, even when passing in the hallway. Virtually everyone I came in contact with remembered me the next time I saw them, and for this I give the Surfcomber highest accolades.
Take, for example, my last day at the hotel when I went outside to take some pictures. As I re-entered, the bellhop outside – who had said hello to me for the past four days – noticed I was alone. "You're flying solo today?" he asked in his usual friendly tone. "Yeah, today is our last day and I wanted to take some pictures," I replied.
Looking disappointed, he looked over and nodded, saying, "You're leaving? That's gonna hurt. Really. It's been a pleasure." He said it in a way that I actually believed.
The Room
I stayed in a first floor room with a courtyard view. It cost me $30 a day to upgrade to a courtyard room. Although elegantly designed, it seemed a little smaller than I expected based on the online photos. The room consists of the main living area, closet, and bathroom. There is also a small desk.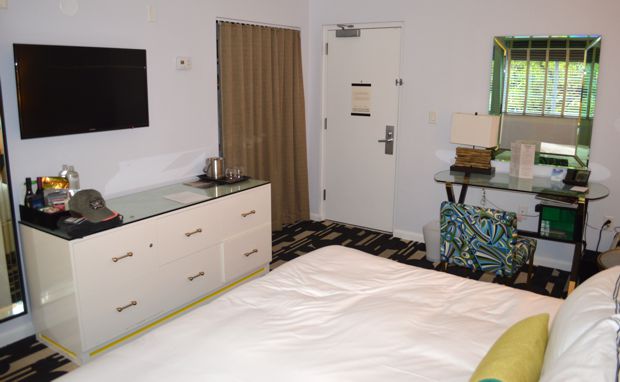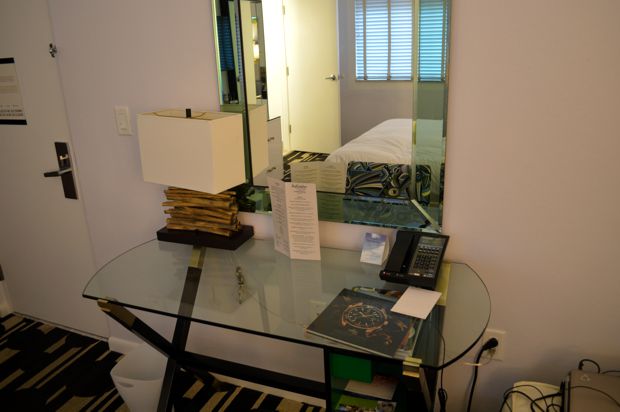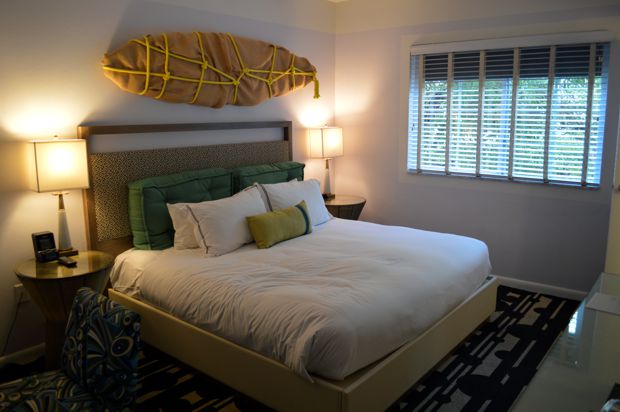 Pros
The bed was quite comfortable.
Air conditioner worked well, keeping the room at the assigned temperature – which in my case was 72 degrees.
iPad/iPod docking station.
USB charger next to the bed
Bathroom was well-stocked with plenty of supplies
Courtyard view provided nice view of foliage and opportunities at people watching. I found myself looking out the window more than I would have expected.
Cons
Sponsored Links:
My first night, which was a weekend evening, I noticed that techno music played all night in the courtyard. Because my room was near one of the speakers, I could hear this music all night. Fortunately, I like white noise when I sleep, so I set the A/C unit to run all night, and the music was no longer a problem.
There were no available outlets near the desk. I had to unplug a lamp in order to plug in my laptop. It wasn't a huge inconvenience, but a power strip would have been nice there.
No fridge or microwave. One-third of my dresser was locked, and it's possible a wet bar was in there – but I couldn't access it. I had a couple of meals where I would have preferred to take back leftovers to warm up later, but couldn't due to the lack of a fridge/microwave.
There was no light in the closet. I found it hard to see in there, and had to use my phone's flashlight on several occasions to find items in that area.
Other
I found the pillows to be too large and hard for my taste, but fortunately there was a smaller, softer pillow available in the closet.
Guests staying in the North wing of the hotel must walk through the restaurant to access rooms (unless entering from the second pool area entrance).
In addition to blinds, there is a blackout shade available, although this wasn't readily apparent my first day there.
The closet contains a safe and a robe.
The Bathroom
For those requiring a large bathroom, this room may not be your best fit. It has a toilet, sink, and shower, and is not big enough for two people to use at once.
I found the lack of a shower door to be an interesting design, though perhaps somewhat flawed, as I often splashed water onto the bathroom floor.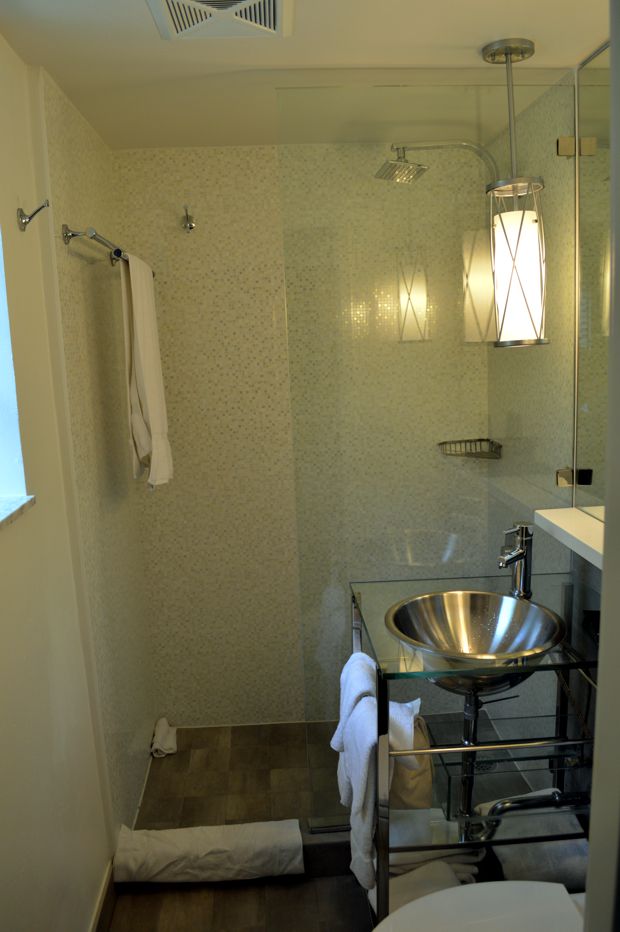 It takes a moment for the water to warm up in the shower, but I found the water pressure and temperature to be quite stable throughout our stay. I particularly liked the rainfall-type shower head.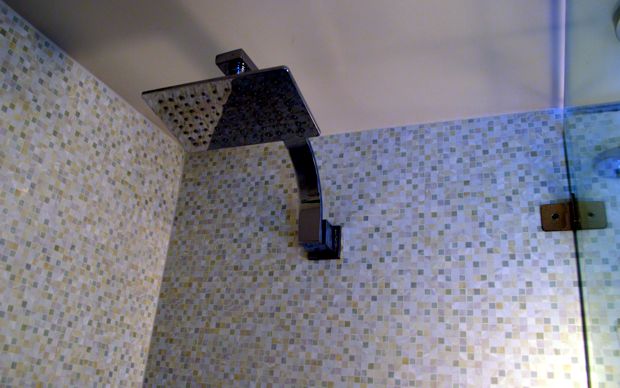 Summary
Although I feel obligated to list all potential negatives for anyone reading this review, I don't want the "cons" listed above to leave readers with the opinion that I had an unpleasant stay at the Surfcomber. I found the hotel to be comfortable and quaint, and the staff made me feel more welcome than perhaps any other hotel stay I've ever had. I would not hesitate to stay at the Surfcomber again, and I have a feeling staff just might remember me the next time I'm there.
If you're looking for a spacious room or bathroom, you might want to consider one of this property's larger rooms, or another hotel completely. If, however, beach access and a staff second to none are your priorities, the king suite at the Surfcomber may just fit the bill. If you prefer the quiet and wish to stay on a weekend, you may want to pass on a courtyard room, as music plays throughout the night in this area.
If you've stayed at the Surfcomber, I'd love to hear your thoughts on the property.