Ball Pets Reviews: A Familiar New Toy
Sponsored Links:

Sponsored Links:

About Ball Pets
Ball Pets are plush balls with a "pet pal" inside. The toy can be unfurled to reveal a plush character, or it can be rolled up into a soft ball. As of December 2014 there are currently 6 designs available. Nine styles are shown on the website, but three of those are listed as "retired" and are no longer available.
The product is marketed by Telebrands, one of the most prominent As Seen on TV companies which markets other products such as Phantom Saucer and Wow Cup.
Ball Pets Cost
Ball Pets cost $19.99 plus $6.99 shipping for a total cost of $26.98.
The product can now be found in stores such as Toys R Us for about $10 to $20. Some retailers stock Ball Pets in an "As Seen on TV" section.
History
The official website is ballpets.com which was registered in March 2011. The website's first appearance in the internet archive was in June 2013. At that time, the product was listed at $12.99 with an "original price" of $17.50. There were 4 designs.
A Facebook page appeared in March 2014. Below is a screenshot of the official website as it appeared in August 2014.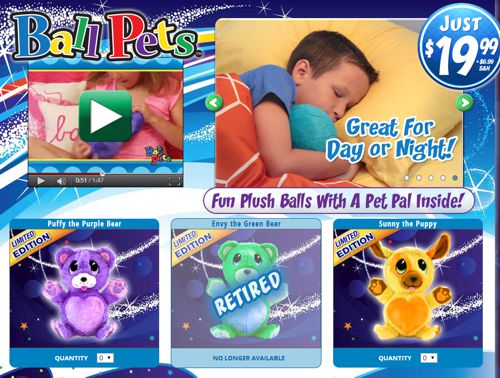 Early Complaints: Back Order
A common problem with many new As Seen on TV products is that of "back order" status for those who are first to order. This is because new products are often produced in small quantities for their initial test marketing campaign. Thus, early reviews for products such as Ball Pets are often plagued by reports of slow shipping. Products which make it out of the test marketing phase and into full production typically alleviate these "back order" concerns of early reviewers.
It would appear that those who ordered Ball Pets in March and April 2014 are the customers most likely to have received a dreaded "back order" notification, and were prompted to leave negative reviews for the product. Ball Pets is now widely available in stores, so shipping costs and delays should no longer be a concern.
Sponsored Links:
Ball Pets vs Popples
Although Ball Pets is a new product, several consumers have stated that they remember this toy from their childhoods – which is obviously not possible. What they are remembering, however, is a similar product called Popples, which was marketed by Mattel in the late 1980's into the 1990's. Watch a Popples TV ad below.
Like Ball Pets, Popples were plush characters with pouches on their backs, allowing the toy to be rolled into a ball. A Popples cartoon series ran for two seasons, and the product was briefly revived in 2007.
Ball Pets vs Fur Berries
In addition to its resemblance to Popples, it has also been noted that Ball Pets resemble a product called Fur Berries, which was marketed about 9 years ago. That product was another plush toy which rolled into a ball. Fur Berries were scented and included a decorative "stem." A reader on Facebook asked the makers of Ball Pets about this similarity, and it was confirmed that Ball Pets is an adaptation of that product:
"…we have a licensing agreement with the original makers of Fur Berries but we have adapted it into a Ball Pet which is different because it doesn't have a stem or scent but rather is emphasized on the fact that it is a ball to play games with and a cuddly friend as well!"
Ball Pets Reviews and Observations
I obtained a Ball Pet from a local Toys R Us. I found the durability and function to be about as expected and as advertised. A few customers in other online reviews stated that there was an unwanted odor which accompanied their Ball Pet, but I did not experience this. This could be due to a shipped product vs one purchased off the shelf at a local retailer. Most of the early negative reviews have focused on slow shipping.
One bright side for Ball Pets is that their predecessor Fur Berries had relatively positive reviews. Without the scent, however, will Ball Pets end up being just another stuffed animal?
A minor point to note is that the "Red Rover" has been described as "orange." While those of us in the adult world may find this to be a minor point of contention, in the eyes of a child, it could be a very significant issue.
Conclusion
Ball Pets is a new adaptation of Fur Berries, and also resembles a 1980's product known as Popples. It appears that Ball Pets were first marketed in early 2014. Early concerns about slow shipping are no longer a concern now that it is available at retailers. I found the product to look and perform as expected. If you can find the product locally on the low end of the price range ($10), it is a pretty good deal.
Have you used Ball Pets? Give me your thoughts in the comments below.
Originally published August 4, 2014
Revised December 6, 2014