Charmazing Reviews: Does This Jewelry Kit Work?
Sponsored Links:

Sponsored Links:

About Charmazing
Charmazing is a line of jewelry making kits by Style Me Up. It is designed for girls around 8 to 12 years of age. These kits allow you to design custom bracelets with an assortment of beads and charms. It is only available at Toys R Us.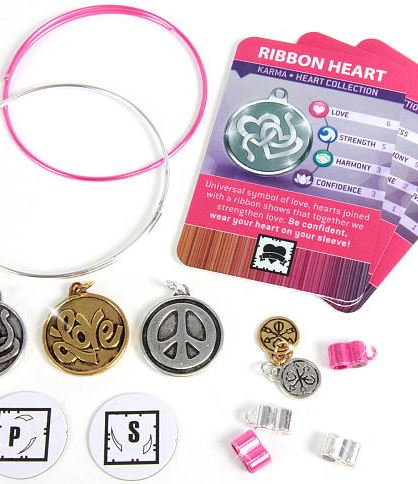 Charmazing Cost
There are three price tiers for Charmazing:
Deluxe Charm Bracelet Kits: Costs about $25 and includes 12 charms and energy cards. Also contains a bracelet workstation.
All Wrapped Up regular kits: Cost about $15, and include 6 charms and energy cards
Let's Get Started starter kits: Cost about $7 and includes 3 charms and energy cards.
Charmazing Reviews and Observations
In addition to the multiple options available for individual kits, there are a variety of different kits available to choose from, with such themes as Karma, Nature, Seasons, Heart, Emoji, Seaside, Lucky, and Wildlife. Each kit contains several "energy" cards which describe the charms included within.
The Karma kit, for example, contains a "Happiness" charm. The "energy card" for the Happiness charm assigns values to the attributes of that charm, such as Fun, Strength, Love, and Creativity. These "energy" cards are reminiscent of trading card games which exploded in the late 1990's and early 2000's, such as Pokemon (which even had its own "energy" cards to be used in the game). The inclusion of these energy cards adds additional appeal to collectors.
Sponsored Links:
Craft toys have been on the rise in recent years, with such items as FunLoom and Rainbow Loom being hot sellers last year. More recent craft toys include Make Your Case and even the Play Doh product Dohvinci. Thus, it should be no surprise that a craft toy would attempt to include the collectability factor. With over 100 charms and 11 different themes currently available, it is likely to find a core of avid collectors seeking to complete their Charmazing collections.
In my evaluation of Charmazing, I found it to be about what was advertised. The quality of the bracelets are on par with those you'd find in other jewelry making kits for girls. The charms are attractive, and the bracelets are stylish, particularly worn in large numbers (notice the advertising typically features girls wearing multiple bracelets). The price for what is in the box seems reasonable.
As if the trading card angle wasn't enough, the creators of Charmazing also offer a free Charmazing app for smartphones and tablets which expands the "Charmazing experience." That app is available from the Google Play and Apple App Stores. You can use the app to scan and track your charms, as well as earning points and "leveling up."
Toys  R Us Exclusive
Charmazing is a Toys R Us Exclusive. There is an official product website, charmazing.com, although it is not even provided in the product's advertising. In fact, the Toys R Us website hosts a page on Charmazing which includes a video and product descriptions.
Similar Products
Toy stores and craft stores typically have a wide variety of charm and bracelet making kits for girls. Toys R Us has another exclusive, the Cra-Z-Loom bracelet maker, which could be seen as competition for Charmazing. There is also yet another Toys R Us exclusive called the Totally Me Zipper Jewelry kit.
Bottom Line
Charmazing is a charm making kit for girls, which comes in three sizes and price ranges. It incorporates crafts and collecting into a single product, and is likely to be a hit for the 2014 holiday season, particularly if the current flood of advertising continues.
Your Reviews
Have you tried Charmazing? Tell me what you think in the comments below.