Genie Slim Jeggings Reviews: Do They Work?
Sponsored Links:

Sponsored Links:

About Genie Slim Jeggings
Slim Jeggings is a product offered by Genie, a company which is known for such products as the Genie Bra, Genie Zip Bra, and Cami Shaper. With Genie Slim Jeggings, the company introduces a product in the burgeoning "jegging" market. Jeggings are essentially leggings which look like jeans.
The official product website is genieslimjeggings.com, which was registered in November 2014. This product, along with the entire "Genie" brand, is marketed by Tristar Products, a popular As Seen on TV company.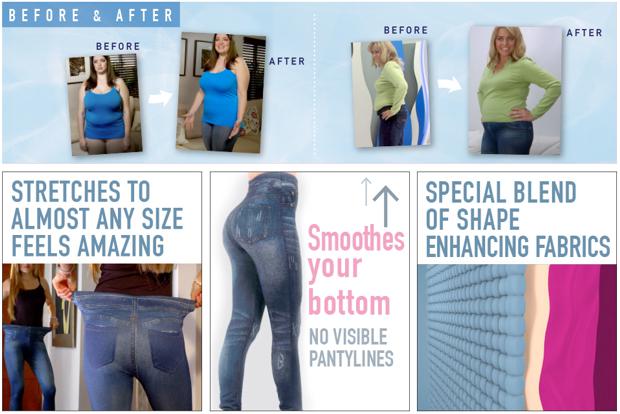 Slim Jeggings cost $19.99 plus $9.99 shipping for a total cost of $29.98. The current offer is for a blue pair, but a grey and black pair are also included for free, making it three pair for about $30, or about $10 each. Sizes offered are S/M, L/XL, 2X, and 3X (a 3X fits pants size 24-26). You are also given an opportunity to add 3 Cami Shapers to your order for an additional $29.99.
The leggings are made of polyester and spandex. They can be washed and dried on a low setting, but cannot be ironed.
Expected delivery time is 3 to 4 weeks, although it appears that early purchasers of the product have experienced longer wait times. This is a common problem with new As Seen on TV products, which are often marketed before they are in full production.
As of April 2015, Genie Slim Jeggings is available in stores.
The television commercial below was posted to the Genie Bra YouTube channel in November 2014:
Transcript of the television commercial above.
Ladies, pay attention. You suck it, you pull it, you squeeze it. Oh, forget it. There's got to be an easier way to get into those skinny jeans. Well now there is. Introducing Genie Slim Jeggings, the hottest new brand in the Genie fashion family. Genie Slim Jeggings are the jeans that look just like jeans but are as comfortable as leggings. Genie Slim Jeggings are made of a special blend of material including spandex for added comfort. They look just like jeans. They even have pockets like real jeans, but like leggings they stretch to almost any size, and feel amazing.

Sponsored Links:




"Getting into skinny jeans has never been so easy, and it felt so good."

Genie Slim Jeggings has a special lifting design that sculpts your bottom, firms your legs, hips, and thighs, and even hides those panty lines.

"I just slipped 'em right on. They covered my muffintop and you can't see my panty lines. They look fantastic with all of my clothes. They match with everything."

So now instead of doing this, you can do this.

"Muffin top? Gone. Panty lines? Gone. Total transformation."

"I feel sexy. I'm proud of my curves. I never felt so fit and toned and so good about myself."

Order now!
Reviews
Most of the reviews surrounding Genie Slim Jeggings involve slow shipping, which is common for a new product. The most common complaint with this product is that of proper fitting. Some consumers have complained that these jeggings sometimes do not stay up properly, which causes bunching and looks unattractive. Another property to consider is that of construction. Not all leggings/jeggings are created alike, and there have been complaints from consumers regarding similar products about sub-par construction. Take a look at the comments below, and you will find many comments regarding sizing and durability.
Ordering sight-unseen yields the risk of improper fit or dissatisfaction with the materials or fit. Now that product is available in stores, you can bypass shipping delays and concerns by simply picking it up locally. This will also give you a chance to evaluate the product first-hand in order to determine if the sizing looks correct for you. For those who venture to order online, I would be interested to hear your opinion on the product.
Similar Products
There are several jeans/leggings products on the market. Another advertised product is called Jeaneez (pronounced "Genies") which is marketed similarly to Genie Slim Jeggings. Genie has also promoted another legging called the "Slim and Tone Leggings" – which does not look like jeans, but is said to provide many of the same shaping properties as the Slim Jeggings.
Bottom Line
Genie Slim Jeggings is a product which combines the comfort and shaping of leggings, but the style of jeans. This product only appeared on the market in late 2014, and reviews for it have been mostly negative. Those who are able to get a pair that fits properly seem evenly divided about whether or not it is a good product. Factoring in those who are not happy about slow shipping or improper sizing will bring this product's overall satisfaction rating into the negative category.
If you've tried (or ordered and are still waiting) Genie Slim Jeggings, please drop me a comment below.
Updated April 13, 2015
Originally published December 2014