Grassology Review: Does it Work? (Jan 2015 Update)
Sponsored Links:

Sponsored Links:

What is Grassology?
Bob Vila lends his face and reputation to the product in commercials which have been running for over a year. The official website is grassology.com, which was registered in January 2007. The domain getgrassology.com has also been used in advertising, although that now forwards to grassology.com.
How much does Grassology cost?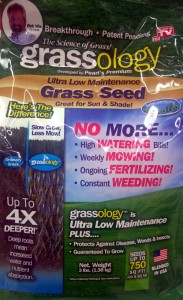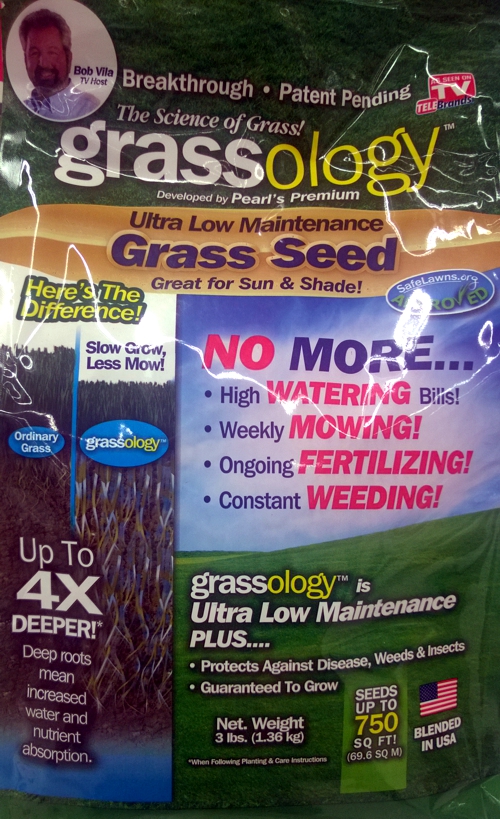 If you purchase from the official website, a one-pound bag of Grassology is 14.99 plus 7.99 shipping, for a total of $22.98. You can also add a second bag plus a 25 foot Pocket Hose Ultra for $9.99, bringing your grand total to $32.97.
The television commercial states that there is a 60-day money back guarantee, while the "Return Policy" on the website states there is a 30-day money back guarantee.
As of this writing, Grassology is available in stores. I found a three-pound bag of Grassology at a local KMart's As Seen on TV section for $19.99 in June 2014. This bag (right) covers up to 750 square feet.
Grassology Seed Mix
Below is the label for the the Grassology seed mix I obtained. As you can see, it contains several fescues: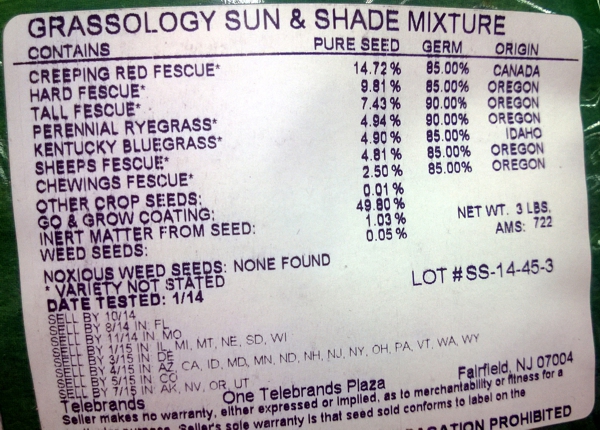 I'm not sure if the mix above is unique to my area of the desert southwest, or if this is what they use in all bags sold around the country. Let me know in the comments below if you've seen a different mix on your package of Grassology.
The website states that germination can take as little as 5 to 7 days, up to two weeks or more.
What the Grassology advertising claims
"Breakthrough" grass seed "based on science."
No more high watering bills, weekly mowing, constant weeding, or ongoing fertilizing.
Up to 4x deeper roots
Defends against disease, weeds, and insects
Low maintenance
Grass seed based on science
A one pound bag covers 250 square feet
Grassology Reviews
I have yet to see results with Grassology, but there are existing reviews online which do not lend much confidence in the product. Consider:
AdFibs summarizes that some statements in the advertising are "intentional attempts to fool the viewer into believing that this product does more than it actually can."
Amazon readers (198 as of January 2015) give it a 2.5-star rating, with 100 out of 198 reviews being only one star. A spate of one-star reviews occurred at the end of May 2014, presumably when it was time for the grass seed to start sprouting.
Home Depot readers gave it 2.5 stars, with several reviewers claiming that it is expensive compared to competing products. It has since been removed from the site.
Some recent reviews on Amazon have included less than impressive headlines, such as:
"Waste of money."
"No grass."
"Wish I would have read the reviews before I bought this crap!"
"Doesn't grow."
To be fair, there are also some 5-star reviews, with headlines such as "Mine worked fine."
Making Grassology Work
One possible reason why Grassology has worked for some but not others is due to the type of grass used in a variety of locations by consumers who are attempting to grow it. Spring and Fall are the best times to sow Grassology. The website also implies that those who sow Grassology deeper than a quarter inch may not see germination at all. A soil temperature of 60 and 70 F is also ideal.
The manufacturer launched the website grassologysuccess.com which is aimed at helping consumers get the most out of Grassology.
Sponsored Links:
Another notable item about Grassology is that it does require regular watering. Those who do not properly care for Grassology may have disappointing results.
Pearl's Premium
The television commercial for Grassology notes that it is the original seed blend developed by Pearl's Premium. You can obtain a five-pound bag of that seed direct at pearlspremium.com for about $36. When I located the two seed mixes posted online by Pearl's Premium – the Sunny Mix and Shade Mix – neither were the same as the seed mix I found on the bag above. Similar, but not identical. Grassology is not specific about which Pearl's Premium blend upon which it is based.
Pearl's Premium also touts many of the same characteristics as Grassology, such as drought resistance, slow growing, deep-rooted, etc.
Pearl's Premium is also available at Walmart. A 5-pound bag there is about $43.
Shipping Complaints
Aside from complaints that the grass seed hasn't worked for some customers, there are many reviewers who felt the ordering process was confusing, with more orders received than wanted. Because Grassology and competing products are easily found locally, consumers should opt for this route to avoid shipping problems.
Television Commercial
This is a commonly-seen television commercial for Grassology featuring Bob Vila.
A great lawn can make a house look like a home, adding value to your property, and it's fun for the whole family. Hi, Bob Vila here, with a breakthrough in grass seed that can give you great green grass. It's called Grassology. It's grass seed based on science that's guaranteed to give you great green grass. And once it's established you'll quickly begin to see a gorgeous green lawn that's virtually maintenance free.

Grassology is patent pending and it's the original low-maintenance seed blend developed by Pearl's Premium. You've probably seen it in the news. You see, regular grass requires frequent watering and fertilizing, but Grassology's roots extend four times deeper than ordinary grass to reach the good stuff that's underground like water and nutrients. And the best part, Grassology reaches a dwarf height so there's a lot less mowing, guaranteed. With Grassology you'll have more time to enjoy your lawn.

Check this out, that's the Grassology difference. We've all seen bare patches, bald spots or brown spots caused by pets. Try Grassology, it naturally fights disease, insects, even weeds, so you have a lawn that looks like a fairway. No one mowed this lawn in months. Check out the Grassology difference after a harsh drought. If your lawn isn't thicker, fuller, and greener in 60 days, you'll get your money back. And best of all, it's made right here in the USA. 
Alternatives to Grassology
Despite the bold claims in the television advertising, there are alternatives to Grassology available, such as the Scotts Turf Builder series of grass seeds that has generally positive ratings from Lowe's and Home Depot customers. Cost-wise, a three pound bag of Scotts Turf Builder Tall Fescue Mix Grass Seed at Home Depot, for example, is about $13.50. There is also Pearl's Premium, mentioned above, which is said to be the basis of Grassology.
History
The Google Trends chart below shows search volume on Grassology over the past 2 years. There was a significant surge in the Spring of 2014, with a tapering off over the next few months. Grassology has been seen advertising on fringe cable channels in 2015, presumably as they gear up for Spring of this year.
Bottom Line
Grassology has been met with mixed reviews, and online orders of the product are plagued by shipping costs and delays. If you want to try Grassology, you may be better off picking it up locally, and examining alternatives in the process. As far as grass seed goes, Grassology doesn't appear to be as revolutionary as the advertising implies, and the consumer is still required to care for the grass in order for it to grow properly.
Have you used Grassology? Tell me of your experience in the comments below.
You may be interested in this comparison of Grassology with Cutting Edge Grass Seed and Hydro Mousse Liquid Lawn.
Updated January 13, 2015
Originally published June 2014