My Review and Experience with Serovital-hgh (Jan. 2015 Update)
Sponsored Links:

I remember hearing about Sylvester Stallone's use of human growth hormone (HGH), and realized how dang good he still looked at nearly 70 years old. Although I've been reluctant to go the HGH route, I recently heard of a product that supposedly helps your body boost hgh, called Serovital-hgh.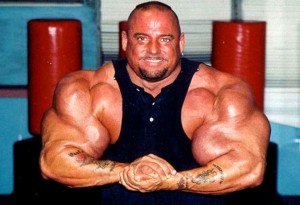 Back in late 2013, it was hard not to browse the web without eventually seeing an ad for Serovital-hgh. Well, maybe it was just me, because I Google a lot of anti-aging stuff, and I know Google delivers ads based on search history. OK, so it was hard for ME to browse the internet without seeing ads for Serovital.
What is Serovital-hgh?
The website claims Serovital is a blend of amino acids which raises growth hormone in the body. However, it is not human growth hormone.
How much does Serovital-hgh Cost?
It is not cheap at about $100 for a month supply. Buy it somewhere local, such as Ulta. At least that way you can save yourself the $7 shipping they want to charge, plus the week or so it will take to arrive.
Another reason I suggest picking it up at Ulta is because the official website (serovital.com) wants to automatically bill you every month to keep replenishing your supply.
The Catch
The website admits there are three "catches" to using the product:
You have to use it alongside a sensible diet and exercise regimen – That probably excludes half of the potential customers right there.
It has to be taken on an empty stomach – Easy enough.
It's cheaper than HGH injections, but will still cost about $100 a month – Youthful vigor is apparently only for the rich.
One more "catch" they don't really advertise is that you have to use it for about 2 months to even begin to notice any results.
Other Reviews
If you poke around the internet, you can find a wide array of reviews. Consider:
Ulta (283 Reviews)
At Ulta.com, a couple of hundred reviewers give it at 3 out of 5 stars, with a 62% recommendation level.
Wafflesatnoon.com (126 Reviews)
Sifting through the reader comments at wafflesatnoon.com, we find a slightly more negative tone. Readers seem to be split down the middle regarding effectiveness.
Supplement Critic (43 Reviews)
The community at SupplementCritic.com offers a 1.8 star rating for Serovital, with a mostly negative view of it.
The Serovital website concludes with this "irresistible," if not ridiculous, closing statement: "But there's no denying that something that has a chance of making you look and feel decades, not years, but DECADES, younger, is… at the very least… irresistible. Frankly, I'm ready to try it. How about you?"
What's in Serovital-hgh?
As it turns out, Serovital is a bunch of amino acids with a big price tag. Several of these are available at GNC for a fraction of the price.
L-Lysine HCI
L-Arginine HCI
Oxo-Proline
N-Acrtyl L-Cysteine
L-Glutamine
Schizonepeta (aerial parts) powder
You may be interested in some additional observations regarding the science behind Serovital.
My Experience with Serovital-hgh
Sponsored Links:
So I decided to plunk down a C-Note for a month supply. I went through a local Sephora located inside a JC Penney here in Southern Nevada.
I wasn't even sure at first what it was – a pill, a cream, something else? (It's a pill) I can see a fancy cream making me look decades younger, but a pill?
Anyway, I tried Serovital-hgh for a month, following the instructions exactly as stated – taking it in the morning two hours before eating breakfast.
After a month… well, I can't say I noticed much. Actually I noticed nothing at all. No side effects, and no benefits.
Better at Night?
A gym rat friend of mine said that it would probably work better taking it at night rather than in the morning, even though Serovital's website says you can take it either time. I wonder if this is why it works for some people and not others?
Competition
I should point out that Serovital isn't the only game in town when it comes to HGH boosters. Take a look at Fountain of Youth HGH Complete, which contains many of the ingredients of Serovital – and actually quite a few more. Its cost? $40.
Bottom Line
I decided not to offer up another Benjamin in hopes that Serovital-hgh would work for me in month #2. Even if I started to notice something – at what cost is it? $200 to start noticing something? I don't think so. I may give one of those other HGH boosters a try at some point.
Updated January 20, 2015
Originally published November 2013
Sponsored Links: