Purrfect Arch: Does it Work? My Review
Sponsored Links:

Sponsored Links:

About Purrfect Arch
Purrfect Arch is a bristled arch attached to a carpet base which allows cats to rub up against it and groom themselves. As the cat rubs up against the unit, the bristles help remove loose hair. The carpet is infused with catnip to increase the appeal of the product.
A tagline states that it is a "New groomer that brushes cats' coats while they play!"
The product is marketed by Allstar Marketing Group, LLC. The official website is purrfectarch.com, which was registered in June 2013.
How much does Purrfect Arch Cost?
Purrfect Arch costs $19.95 plus $8.95 shipping, for a total of $28.90.  A second unit and two bags of catnip are also included for free without any additional shipping charges.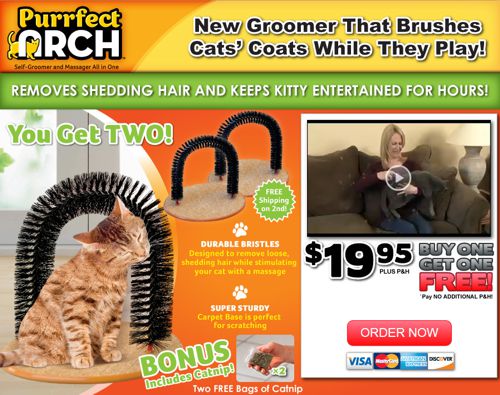 Television commercial
Below is the TV ad which has been airing in mid-2014:
Transcript of the television commercial above:
Brushing kitty's coat can be a disaster!  Her fur goes everywhere. Clothes and furniture covered in hair… Now your pretty kitty can groom her own coat with Purrfect Arch. The fun, new at home groomer that actually brushes her coat while she plays. The secret is the durable bristles that are designed to gently remove loose, shedding hair while stimulating your cats coat deep down for an amazing massage. Purrfect Arch feels so good, kitty will be purr-fectly happy. Plus, the cat nips at it's base keeps the kitty coming back for more! She'll be perfectly entertained for hours on end. Look, your cat's natural instinct is to rub against people and objects. The problem is she leaves fur everywhere, but Purrfect Arch let's your cat get an amazing massage while brushing her own fur. The bristles collect the loose fur for stress free grooming that kitty cat loves. If you don't groom your cat, her coat starts to mat. Then when she licks her coat you end up with nasty hair balls. But Purrfect Arch feels so good, your cat keeps coming back for more! It's the perfect back scratcher, the ideal massager, she'll be purring in seconds. Purr-fectly content, purr-fectly entertained. And look the Purrfect Arch base has rubberized feet so it's super sturdy and covered in durable scratching post carpet perfect for kitty cat scratching pleasure.
Review
I had a chance to evaluate Purrfect Arch in late 2013. After my initial evaluation, the product seemed to disappear from television advertising, so I assumed it was another As Seen on TV item that didn't make it out of the test marketing phase. Then in mid-2014, the product reappeared with a renewed advertising campaign. Thus, I decided to offer my belated observations of the product here.
Sponsored Links:
I let my long-haired 11-year old medium-sized cat give Purrfect Arch a try in late 2013. While I wouldn't say the cat used it to the degree shown in the advertising, she did use it on occasion. She was initially attracted to the catnip carpet, but this quickly waned. As the product sat in my living room for several months, my cat could be seen occasionally rubbing up against the bristles. I wouldn't say that this activity replaced traditional brushing because she didn't cover all areas of her body.
The construction of the product didn't seem durable at first, but I never had any problems with it falling apart or losing bristles, so I would say it was sufficiently built for the job.
In my experience with the product, it acted more as a massage and scratch toy than a self-groomer. In the end, however, all cats are different and some cats will use this product more than others.
Readers at FreakinReviews.com give the product 2.28 out of 5 stars as of this writing.
Alternatives to Purrfect Arch
The design of Purrfect Arch is duplicated in several other competing products. Take a look at the Ware Brush N Scratch, the Omega Paw Arch Groomer, or Pet Buddies Self-Grooming Cat Salon. All three of these products have the same basic design as Purrfect Arch. In reading reviews of these competing products, it appears that some cats like them and some cats don't. Construction of these competing products also varies.
History
The Google Trends graph below shows search interest over time for Purrfect Arch. Interest in the product peaked in August of 2014 and has slowly declined since then.

Bottom Line
My cat used Purrfect Arch on occasion, but it seemed more as an item for her to scratch and rub up against than for self-grooming. Cats are unpredictable and finicky, and your experience will likely be as unique as your pet. Purrfect Arch appears to be competitively priced against similar products.
While I don't feel that it Purrfect Arch is a comprehensive cat grooming solution, I feel it is a competent addition to my pet care inventory.
Have you used Purrfect Arch? Let me hear from you in the comments below.
Originally published July 8, 2014
Revised December 2, 2014