Snuggle Up Fleece: Review and Observations
Sponsored Links:

Sponsored Links:

Snuggle Up Fleece
Although recliner covers have been around for generations, the advertising for Snuggle Up Fleece seems to promise consumers a new take on the product, featuring ease of installation and pocket holders for remote controls.
The official product website is trysnuggleup.com which was registered back in 2014. The product was test marketed on television in early 2015 before hitting the airwaves in earnest in the Fall. Although it is currently in the middle of a television advertising campaign, the product has already arrived in many stores.
Below is the product website as it appeared in November 2015.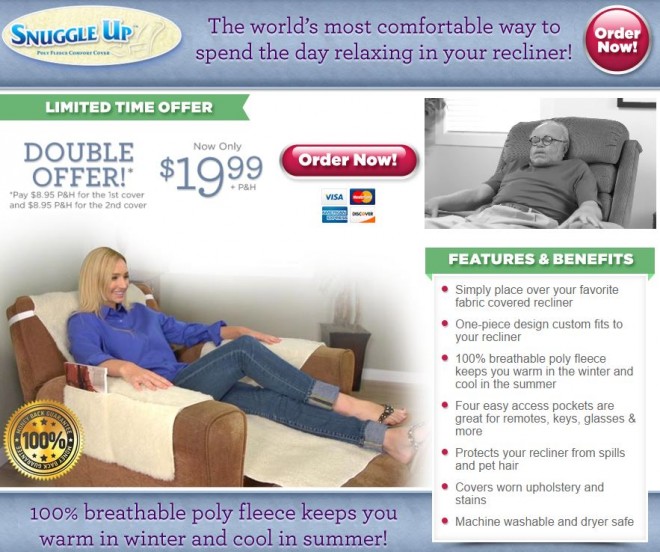 Snuggle Up Fleece Cost
I've seen Snuggle Up Fleece in stores such as Walmart and Kmart for about $20. You can also find it on the official website for $19.99, but keep in mind that going that route will cost you shipping for two units because they have a two-for-one offer. That will run you over $30 for two. Should you decide to return the product, those initial shipping costs are non-refundable.
Snuggle Up Fleece Review and Observations
I recently had a chance to test out a Snuggle Up Fleece that was purchased locally. The advertising specifically states that it "perfectly fits your favorite large fabric-covered recliner," but my initial reaction was that I found it to be smaller than expected.
Sponsored Links:
The material feels lightweight, soft, and comfortable. It seems relatively well-made overall. The straps, however don't feel to be made of the highest quality materials which leads me to wonder if the straps are durable enough for long-term use, although I have not yet experienced any problems with them.
The provided pockets are certainly large enough to store most of your recliner needs, such as remotes or crossword puzzles. They are deep enough to hold even larger remotes, but not too deep that you must fish around to dig them out of the bottom.
Snuggle Up Fleece fit my smaller recliner perfectly, although it seemed too small to cover a larger recliner for which I originally intended to use it.
You may want to peruse the ample supply of recliner chair covers at Amazon and consider one of those if Snuggle Up Fleece doesn't work for you.
There is a deluxe version for sale on the official Snuggle Up Fleece website, although I have not seen that one firsthand, nor have I seen it for sale in stores. The website describes the deluxe version as being "made with more durable and heavier fleece, only $10 more per fleece." If you've tried the deluxe version, drop me a comment below.
Conclusion
Snuggle Up Fleece is a decent recliner cover, provided that it actually fits your recliner. It seemed smaller than I expected, and I wonder if it will be a problem for larger recliners. The material is soft and lightweight, although I worry that the straps may not hold up long-term.
Originally published November 2015
Revised January 11, 2016