Sponsored Links:

Sponsored Links:

About Zoom Tech
This product clips onto a smartphone and is said to increase zoom by up to 2.5x. It has been advertised on television in recent weeks. The official website is buyzoomtech.com, which was registered in August 2013.
How much does Zoom Tech cost?
Zoom Tech costs $10 plus $7.95 shipping. This includes the lens and carrying case. There is a second "free" Zoom Tech with carrying case for another $4.95 – and it does not appear that you can opt out of this second "free" item, bringing your total to $22.90 when you order.
There is a 30-day money back guarantee, less shipping. This means if you aren't happy with the product, you'll get back $10 and they will keep the $12.90 you paid in shipping costs.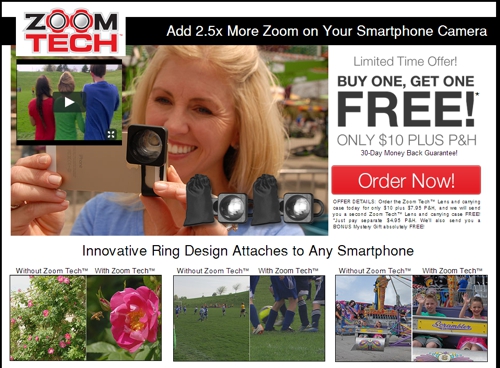 Zoom Tech Features & Claims
These are some of the claims made my the Zoom Tech commercial and website:
Take professional-looking photos with your smartphone.
Increases zoom capabilities while maintaining a crisp picture.
Transform your cell phone camera into a high-end zoom camera.
Television Commercial
Below is a television commercial for Zoom Tech which has been airing in mid-2014.
Transcript of the television commercial above:
Great, you tried pushing your way to the front to get that perfect picture, even moving onto the field, but that could be dangerous. What you need is Zoom Tech, the new compact high-powered zoom lens for your cell phone. Watch, just attach Zoom Tech to any phone, slide the lens into place, and instantly get 2.5 times magnification to bring everything up close. You'll never take an ordinary photo again. It's great for taking pictures of nature, birthday parties, even use it for videos of the game. Zoom Tech fits any phone and a sliding lens ensures clear high-end optics with no dials to adjust. 

Sponsored Links:




When you're on the go, use Zoom Tech to get closeup family face shots without lugging bulky camera equipment. Go from this to this with Zoom Tech. Take stunning tight shots at your favorite sporting events and catch all the action. And finally have a front-row picture of the show even from the back row. Look, smartphone pictures can be expanded to appear closer but this also affects the quality. Zoom Tech zooms into the area you want closer just like a professional camera. Now you can easily capture stunning vacation shots and the best part is it's so compact it stores away with ease. Don't pay $300 for a bulky zoom lens. Now on this special TV offer, get the Zoom Tech lens and carrying case for the amazing low price of just $10. But wait, there's more. Call or click right now and get a second Zoom Tech lens and carrying case free. Just pay separate processing and handling. Capture what you've been missing and zoom in on all the action with Zoom Tech. Here's how to order.
Zoom Tech Review
I am in the process of obtaining a Zoom Tech lens. When I receive my product, I will be evaluating it with the following questions in mind:
Does it attach to any smartphone?
Is the picture crisp with and without zooming?
Are the samples on the website realistic examples of how the product works?
Is 2.5x considered "high powered"?
Can you take non-zoomed photos while this lens is attached?
Is it a viable substitute for a $300 zoom lens?
Can you adjust the level of magnification, or it is always 2.5x?
Of particular concern from an advertising perspective are the photo examples given on the website and television commercial. For example, a "without Zoom Tech" photo shows a rose bush, while the "with Zoom Tech" example shows a closeup of a single rose with magnification clearly higher than 2.5x.
Bottom Line
The jury is still out if Zoom Tech will be one of those surprising As Seen on TV products that actually works, or if it will fail to live up to the advertising hype. The commercial and website give examples that appear to have much greater magnification than 2.5x, and this is what I will be examining closely when I receive my Zoom Tech.
I will update this page as soon as I have a chance to evaluate the product first-hand.
Your Zoom Tech Reviews
Have you tried the Zoom Tech smartphone camera lens? Let me hear from you in the comments below.