Digibirds Review: Do They Work? (Mar. 2015 Update)
Sponsored Links:

Sponsored Links:

About Digibirds
Digibirds are available through retailers such as Target. The official website is digibirds.com, which was registered in October 2013. There is a Facebook page which was launched in July 2014. In addition to singing songs, the birds also sing and move together. A variety of designs are available and presented as collectibles.
How Much Do Digibirds Cost?
I found Digibirds at a Target here in the Las Vegas area. The price was $14.99 for a bird in a stackable cage, and $9.99 for a bird without a cage. There are a variety of styles and packages available for prices from about $10-$15.
Digibirds Review
I saw that Digibirds were available at Target, so I went on the official Target website to make sure I could find them in stock in town. I noticed that several locations around town were out of stock, which told me it was a hot selling item at that time (September 2014).
The toy was on the shelves near Fur Real Pets, Little Live Pets, and Pound Puppies. I purchased one with a cage and one without.
The birds come in a variety of designs, and kids are encouraged to collect them all. The box in which my Digibirds came were marked "Series 1." Each bird is made of plastic, and the head and beak move. Each bird comes with a ring perch where the child can place the bird on their fingers. The perch also acts as a whistle which activates the birds to sing.
Cages
The cages can be "stacked," that is they can be hung in a series and presumably sing together while in their cages. Because I only tried out one cage, I couldn't verify if a string of bird in cages would sing together.
Digibirds Batteries
After unpacking Digibirds, I read in the the instructions that you would need to remove any old batteries in the bird and insert new ones. Each bird takes three small button cell batteries, and I couldn't find a screwdriver small enough to open the compartment in order to insert new ones. Fortunately for my tests, the existing batteries seemed to work fine. I will have to dig out a small Philips screwdriver in order to insert the proper batteries before I give this toy away.
Solo and Choir Mode
Digibirds can sing alone in "solo" mode. To do this, you slide the tab to "solo" and then activate the bird by two methods: blowing into its chest or using the enclosed whistle. When you do this the bird will sing a song and chirp.
Where the product really shines is when you have multiple birds sing together in "choir" mode. To do this, you turn all of your birds off, then you turn on the first one to "choir" which will set this bird as the choir "leader." After the bird makes three tones and shakes its head, you then set the next bird to choir. It will make three tones and move its beak to tell you that it has joined the choir (if it shakes its head, you have to start over, because that bird thinks it is the leader).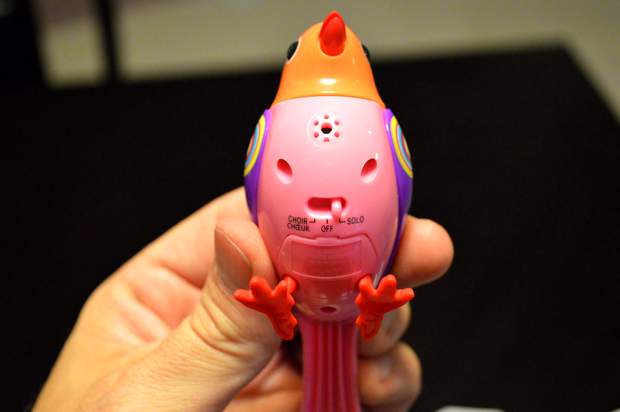 Sponsored Links:
Once you have set all of your birds up in a choir, you can activate them by whistling. The choir leader will send out a tone to queue the choir which song to sing, and they will begin singing together.
I also found that even if you don't whistle, they will eventually start singing anyway.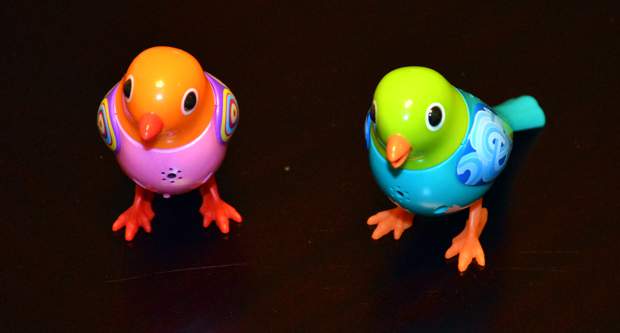 Digibird App
There is a mobile app for Digibirds which offers games that allow you to unlock additional songs for the birds. The app is available for Android and Apple devices.
The instructions state that there is a "conductor mode" in which you can "use mobile device to send command beep which triggers choir to sing together." This wasn't explained further, but once you install the mobile app, it becomes apparent how this feature works. There are additional songs you can "teach" your birds by tapping on the song. The birds will "listen" to the tone and learn the new song.
Similar Products to Digibirds
The television commercial for Digibirds reminded me of the bizarre Perfect Polly marketed in 2013, as well as Little Live Pets birds, which is another new singing bird toy marketing to children. The unique feature of Little Live Pets birds is that they can record and play back your voice. Digibirds are unique in that they communicate with each other and sing together to form a choir. This feature will probably prompt more sales of Digibirds than Little Live Pets birds, as most children will be satisfied with a single Little Live Pets bird, while they will likely want to collect many Digibirds to complete their choir. The collectibility factor of Digibirds may be a powerful selling point.
Do Kids Like Digibirds?
I had two young children play with Digibirds and the reaction was uniformly positive. Although they seemed to like the chirping, their interest was heightened when the choir function was engaged and the birds began singing and moving in unison. Older kids will likely be interested in collecting the birds and unlocking new songs via the mobile app. Younger kids may not care as much about the collection angle.
Video
The video below shows me during my evaluation of the product. It was shot with a Sony Action Cam (a GoPro competitor) and is time-compressed so you can view the process in a short amount of time. At the end of the video you can see and hear the two birds singing in unison.
Bottom Line
I give Digibirds high marks for ingenuity and for working out of the box as advertised. Its creative design is also a savvy marketing strategy, as kids will be driven to collect as many birds as possible in order to create their own Digibirds choir.
It appears that as of March 2015, Digibirds is now advertising on television, with new birds available for purchase.
The only real "con" to the product that I found was that the battery compartment requires a very small screwdriver, which may not be readily available for every consumer. It is a minor point of contention, however.
How long it will hold a child's attention is something that will vary, and will only be revealed over time.
Your Turn
Have you tried Digibirds? Tell me what you and your child think in the comments below.