Star Shower Laser Lights Review: Does it Work?
Sponsored Links:

Sponsored Links:

About Star Shower Laser Lights
Star Shower is a projection device which shines a static display of red and green lights onto walls. The official website is getstarshower.com which was registered in January 2015 by Telebrands. In contrast to traditional holiday lights, which usually require a laborious hanging process involving a ladder, Star Shower Laser Lights are simply placed on the ground and projected onto a home. The website also claims that it can be used indoors.
Other Claims
Can project from 100 yards away
Goes anywhere in your yard
Can be used indoors or outdoors
Easier than hanging lights the old-fashioned way
How much do Star Shower Laser Lights Cost?
You can find this product for about $40 in stores such as Bed Bath and Beyond or Fry's. It can also be ordered from the official website for $39.99 + $9.99 shipping. They also offer a 3-pack for $119.98 + $4.99 shipping, or a 6-pack for $239.94 with free shipping.
The cost of the 3-pack and 6-pack have been raised since I first posted this review (initially costing $99.99 and $199.98, respectively). Obviously picking it up locally would be the preferred option to avoid shipping costs and delays.
Screen Shot
Below is a screen capture of the official website taken in August 2015.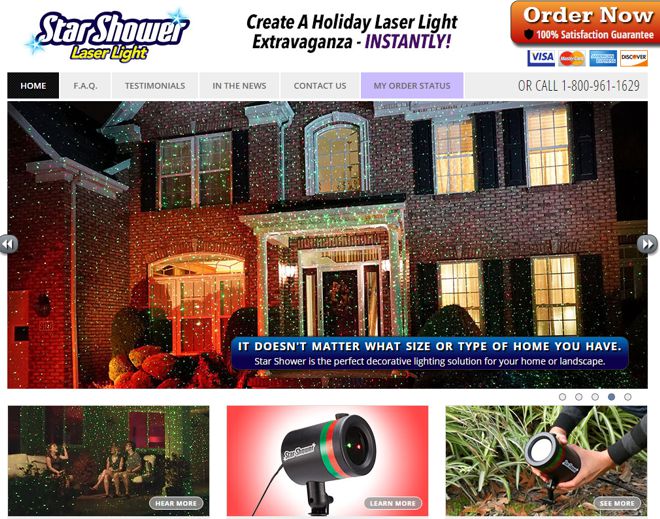 Transcript of TV Ad
Below is a transcript of the TV commercial that ran for Star Shower.
First you have to untangle them, then try to hang them. And after all that, they still don't work. There has to be a better way. Introducing Star Shower Laser Lights, the easiest way to light up your entire home.

In just seconds you can add thousands of colorful stars everywhere. It's so simple. Place the Star Shower Laser Light anywhere in your yard and your house will be transformed from dark to dazzling. Or go from simple to spectacular. The secret is the state of the art laser technology that projects breath-taking holographic stars onto any surface, up to 600 square feet. It's an amazing laser light show that illuminates your entire home.

Lighting your home with these lights is expensive, but with Star Shower Laser Lights, electricity costs are more than 99 percent less. Now that's a savings.

Star Shower can hide discreetly among landscaping and withstand any kind of weather, and can project from over 100 yards away, so you can have decorative lights where it was impossible before. Amazing!

Use them close up to highlight a favorite tree or bush for instant nighttime decoration. Just click and you're lit for a Halloween any child won't soon forget. Or in just seconds your 4th of July will sparkle with fireworks of your own.

"When I have a party, I spice it up with Star Shower. I love them and my guests can't keep their eyes off them."

Sponsored Links:




Same old Christmas decorations? Now make them exciting with Star Shower. Use them year-round anywhere around your home. Even bring the stars indoors to light up a foyer or create a fantasy world in the little one's bedroom.

Stop wasting hours hanging old fashioned lights. Light up your home with Star Shower Laser Lights for just $39.99. But wait! We'll give you an instant upgrade to the deluxe red-green dual laser Star Shower. But we're not finished yet. You'll also get the Star Shower Deluxe Indoor Base, so you can enjoy stars anywhere inside your home in just seconds, and it's free. Here's how to order.
Review and Observations
I first noticed Star Shower Laser Lights in July 2015, and since then I have seen it advertising via late-night television infomercials. The website and advertising are both slickly-produced As Seen on TV fare generated by Telebrands, which is a leader in this genre.
After finally getting a chance to evaluate it first person, I can say first and foremost that it does present a beautiful display. For some reason, I was under the impression that the stars could move, which they don't – they are static (I don't know why I assumed that, when the advertising clearly doesn't show the beams moving).
There are a few things, however, you may want to consider. First, some of the advertising appears to show the results of their 6-pack, with a full house completely blanketed in lights. A single unit won't provide results as stark as that. Second, I have safety concerns about the lasers themselves. How safe is a safe distance? What about shining into neighbors windows or even airplanes? There is little in the way about warnings or information for proper use.
In December 2015, the FAA stated that home laser light displays – without mentioning Star Shower specifically – were proving dangerous to pilots. Officials have told consumers to be sure that lasers are pointed at the house, and not up into the sky.
Despite those concerns, Star Shower Laser Light performs beautifully when it works properly. There have been, however, an alarming number of complaints online about one or both colors burning out quickly or not working at all. See this page for more reader information.
It would be nice if Star Shower Laser Light came in colors other than red and green, but maybe that will be the case if this ends up being a hit.
Related Video
The video below shows a 4-way comparison of the 2016 and 2017 Star Shower models: Star Shower Motion, Star Shower Laser Magic, Star Shower Slideshow, and Star Shower Window Wonderland.
Bottom Line
My evaluation of Star Shower Laser Light has been generally positive. I'm a bit concerned that there is little in the form of instructions regarding proper use of these lights. Options beyond red and green would also be nice. Consumer complaints about non-working lights cannot be ignored.
Your Star Shower Laser Light Reviews
Have you used Star Shower Laser Light? Give me your opinion below.
Updated December 2017
First published August 2015