Sponsored Links:

Sponsored Links:

About Touch Purse
Touch Purse is advertised as a way to safely store your smart phone for easy retrieval in a compact and useful purse. The official website is touchpurse.com, which was registered in December 2013.  It is marketed by Spark Innovators, which also offers such products as Cafe Cup and Rocky Mountain Knife.
A product tagline states, "Make calls & use your phone from inside the purse!" Touch Purse is available in brown or black. Below is a screen shot of the official website, taken in June 2014.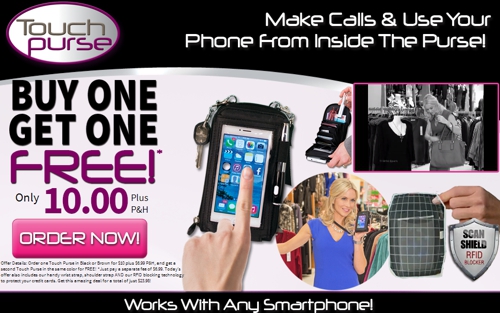 How much does Touch Purse cost?
Touch Purse costs $10 plus $6.99 shipping. You can add another purse for an additional $6.99 shipping, but you can opt out of this second purse offer, as I did. Note that the television commercial currently on the Spark Innovators YouTube channel (below) has a price of $12.99, which is no longer the correct price. There is a 30-day money back guarantee, less shipping.
When you place your order, you will be offered a series of upgrades and additions to your order. You'll be asked if you want to upgrade to their deluxe model for an additional $8.99 per purse.
Upgrade every purse ordered to stain-resistant, ultra-durable nylon with stainless steel zippers and buttons plus FREE P&H on your entire order for just an additional $8.99 per Touch Purse ordered. 
After I declined, I received another offer to upgrade.
Wait! You don't want to miss this incredible offer! Upgrade every purse ordered to to stain-resistant, ultra-durable nylon with stainless steel zippers and buttons plus FREE P&H on your entire order for just an additional $6.99 per Touch Purse ordered. 
After declining again, I was offered a 3-in-1 "LumaStylus" for $5.
The 3-in-1 LumaStylus fits right in the stylus loop already built into every Touch Purse. It features a pen, touch-screen stylus as well as a convenient and bright LED light! At only $5 each with FREE processing and handling, you can't miss this deal. 
Finally, after declining this offer, I was given an order confirmation screen for a total of $16.99. I did receive an email confirmation after my order was placed, but it can a few hours after my order was placed.
Television Commercial
Below is a television commercial for Touch Purse. I have seen this commercial airing on the Esquire channel.
My Touch Purse Review
After receiving my Touch Purse, below are my observations of the product.
Sponsored Links:
Considerations
Delivery. How long did the product take to arrive? My order was placed on June 12, 2014 and arrived on July 7. The stated delivery time is 2 to 4 weeks, so this was within their projected timeframe.
Construction. I wouldn't say that it feels cheap or especially durable.
Expectations. Does the product live up to the promises in the television commercial? I was surprised that I could still operate my smartphone through the window, although I had to press a little harder and tap a little slower for it to work properly. One problem I did encounter is that the buttons on the side were not readily accessible. I have to press along the side until I guess where my desired button lies.
Calls. The television commercial claims that you can talk on your phone without removing it from the Touch Purse. I performed several test phone calls, and asked the person on the other end to compare how I sounded with the phone in the purse, and then out of the purse. Aside from a moment that I sounded "fuzzy" while in the purse, the overall consensus was that the sound quality did not degrade much while in the purse.
One size fits all. A Nokia Lumia 920 (4.5 inch display) fit snugly into the Touch Purse, and an iPhone 5s fit quite easily. I could not fit a Galaxy Note II into the pouch, however. If you have one of the larger phones on the market, your phone may not fit.
Removal. The advertising claims that the phone can be easily removed from the Touch Purse. At first, I found removal to be a little difficult, but then I realized that two corners of the phone stick out from the bottom of the pouch. If you push up on these corners, removal is easy.
Storage. I will be looking to see if Touch Purse can hold a similar amount of items as advertised.
Style. Does the purse look stylish – or does it cramp one's style?
Alternatives to Touch Purse
There is a similar purse currently on the market called PursePlus Touch by Charm 14. That product was featured on QVC earlier this year. It has somewhat positive reviews on Amazon, but a YouTube review claims it is cheaply made. When I receive my Touch Purse, I will be considering the complaints and praise directed at this alternative product to see if any of the perceived flaws exist in Touch Purse as well.
Bottom Line
Touch Purse is a new product which claims to allow users to operate their smart phones without removing it from the purse. I found the construction to be acceptable and it is possible to operate your phone while it is still in the pouch. Problematic areas with Touch Purse include the inability to operate buttons on the side of the phone and larger phones which do not fit into the slot.
If you have tried Touch Purse, let me hear from you in the comments below.