Balloon Bonanza Reviews: Does it Work?
Sponsored Links:

Sponsored Links:

About Balloon Bonanza
Balloon Bonanza is a unique device which instantly fills and ties 40 water balloons simultaneously. It consists of a hose attachment which splits into 40 smaller tubes that each are connected to a balloon. As water enters the tubes, all of the balloons are filled at the same time. When full, they drop off and seal automatically.
Balloon Bonanza is marketed by As Seen on TV giant Telebrands, which has brought numerous products to the airwaves in recent years, such as Mighty Blaster and Pocket Hose Top Brass.
The official product website is buyballoonbonanza.com, which was registered in October 2014.
Oddly, Balloon Bonanza's website includes links to various social media pages, such as Twitter and Facebook, but those profiles have little to no activity or followers.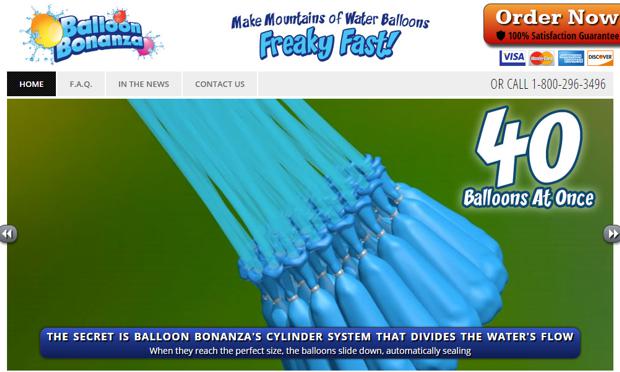 Cost
Balloon Bonanza costs $14.99 plus $5.99 shipping for a total cost of $20.98. This gets you a total of 120 water balloons at a cost of 17.5 cents per balloon. Shipping is said to take 3 to 6 weeks.
As of this writing, it is not available in stores.
Television Commercial
The TV ad below has been airing in Spring 2015. I am assuming their marketing campaign will increase as the weather gets warmer.
Observations
Balloon Bonanza appears to be either a re-branding – or a knock off of – a Kickstarter product called Bunch O Balloons. I am assuming it's a re-branding, but I could not find verification. As someone who has spent a good deal of time filling water balloons for a group of kids, this product seems like a godsend. There are of course two glaring questions that beg to be addressed: Does it work, and is it reusable?
Does it Work?
I had a chance to observe this product in action recently, and I can say unequivocally that it does in fact work as advertised. 40 water balloons were filled simultaneously in a very short period of time. When full, they dropped into a bucket of water, ready for play. It's an ingenious invention.
Sponsored Links:
I did noticed that there was a bit of technique involved in order create the optimal water balloon. The television commercial above gives the impression that the balloons will suddenly drop off when the desired size is achieved, but in reality you will probably have to perform a lifting or pulling motion in order to coax the balloons off of the device. I noticed one commenter online who said that she detached the balloons when they were a bit under-filled, which resulted in balloons that did not pop easily.
The Big Question: Is it Reusable?
My first question when viewing the advertising – and a question which to this day has gone unanswered on the product Facebook page – is whether or not Balloon Bonanza is refillable, can be reused, or if replacement balloons can be purchased. The answer is no. Balloon Bonanza is a one-time use product that cannot be reused. I'm assuming that the manner in which the balloons are attached to the tubes would make it difficult for a consumer to duplicate.
Short Term Use
The discussion about refills raises a question which has been posed about other kids' products over the past year: are short-term toys accepted by the public? I'm thinking of Wubble Bubble Ball and Hyper Disc – both of which are generally designed to be short-term use toys – alongside Balloon Bonanaza, which is really a one-time use toy. In my interaction with consumers about such products over the past year, I've noticed something of a backlash against this idea.
Manufacturers argue that parents think nothing of buying a ride pass for $20 at a carnival or spending more than that for tokens at Chuck E. Cheese's, so a disposable toy along the same price range should be acceptable if it provides a day of fun.
Consumers, however, do not quite see it that way. Toys aren't supposed to last forever, but people like for them to last more than a day. With Balloon Bonanza, it remains to be seen if its one-time use will be a sticking point for consumers. From some of the early comments I've seen, it appears that this may be problematic for some buyers.
Final Thoughts
Having filled countless water balloons for parties and even a family reunion years ago, I see the value in this product, even if it's only a one-time use. If this existed when my kids were little, I would have gladly purchased it for one of their birthday parties – just to save me the time and headache of having to fill balloons manually. I don't know if I would purchase it for casual use, but for an event it seems to be a great idea.
Bottom Line
Balloon Bonanza is a device which automatically fills and seals 40 water balloons at once. In my observation of the product, I found that it worked as advertised. Some consumers may not be happy that it is a one-time use product, but it does save time and hassle if a water balloon fight is on the docket.
Your Balloon Bonanza Review
Have you ordered or used Balloon Bonanza? Let me know what you think in the comments below.