Bright Eyes Blanket Reviews: How Well Does it Work?
Sponsored Links:

Sponsored Links:

About Bright Eyes Blanket
The makers of Snuggie – the infamous blanket-with-arms that was marketed to adults a few years ago – are trying their hand at a blanket marketed toward kids, the Bright Eyes Blanket.
This product is a soft blanket with several features added with kids in mind. There are the namesake glow-in-the-dark eyes, along with pocketed corners for hands to grasp the blanket, and a hat which includes an animal face. The blanket can also be rolled into a pillow. Four characters are available: Kitty, Puppy, Panda, and Duck.
The official website is brighteyesblanket.com, which was registered in December 2013. The domain brighteyesblankets.com (plural) is also used, but that forwards to the primary website.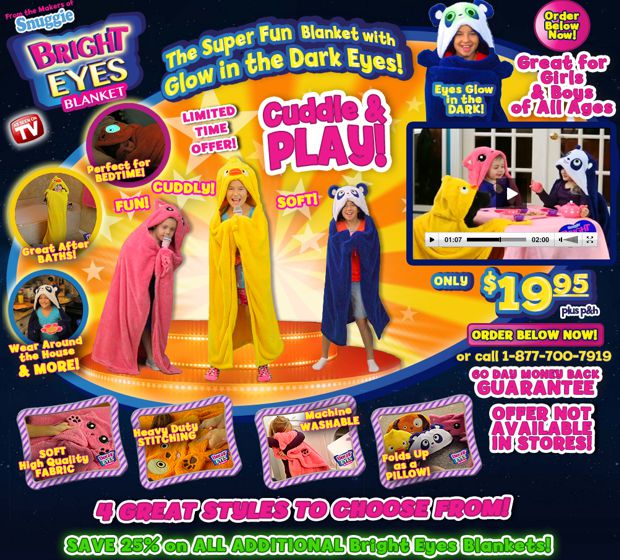 Bright Eyes Blanket Cost and Availability
If you purchase Bright Eyes Blanket online, it will cost you $19.95 plus $6.95 shipping, for a total of $26.90. You can order additional blankets at a 25% discount, or $14.95 plus $6.95 shipping, for a total cost of $21.90.
Savvy shoppers are known to wait until As Seen on TV products hit store shelves before trying them out. This wise practice allows shoppers to evaluate the product a little closer, and to avoid shipping fees and delays. For that reason, a common tactic in As Seen on TV ads is a statement such as "Offer not available in stores." This, however, does not mean that the product is not available in stores, but that whatever freebie or discount they are advertising is not.
The product appears to be currently arriving on Walmart shelves for about $19.88. The Walmart website allows you to order the product for in-store shipping within a week, which may be a better option than ordering direct if you can't find it in your area.
I called my local Walmart to inquire about the product. Although I was told they didn't have it in stock, I stopped by the store later that day and found Bright Eyes Blanket in the As Seen on TV section.
Television Commercial
Below is a television commercial for Bright Eyes Blanket, which has been airing since mid-2014.
Bright Eyes Blanket Reviews & Observations
Bright Eyes Blanket appears to be an adequately made product, with a host of features that is sure to appeal to children. The glow-in-the-dark eyes are perhaps gimmicky, but the product doesn't rely solely on this feature, including several other attributes to widen the scope of appeal.
Whereas some of the other plush or glowing products are simply toys that don't do much, Bright Eyes Blanket at least serves a function, and will likely remain in use longer than the standard toy for that reason.
One surprise in the panda blanket I purchased was that the ears also glowed. This was not noted on the packaging, but was a pleasant surprise.
Size Concerns?
Although it may not be an area of concern for all consumers, I should mention that the length of the blanket could be a problem. While smaller children may enjoy head-to-toe coverage with this product, it may only reach below the knees on taller kids. This doesn't take away from the product's general function, but it may not make it the best option for overnight sleeping.
Sponsored Links:
I measured the blanket at 42 inches high. On a large child, the blanket may only reach down to the knees, while on an adult or teen (although I realize that is not the target consumer) it only reaches the top of the legs.
The size may also be of concern regarding the pocketed hands, as a larger child's arm span is likely greater than that afforded by this blanket. Thus, the larger child cannot stretch his or her arms fully while keeping the hands in the blanket's pockets.
The only other concern I had when evaluating the product was that of static. When donning the blanket, I could not only feel the static building up, but I could hear it as well.
The most relevant question to ask is if the features of Bright Eyes Blanket justify the cost over a regular blanket. That will be up to the individual consumer to answer.
Early Complaints
As with many products which are test marketed before going into full production, you may see some early comments complaining about slow shipping.
As Seen on TV products are usually test marketed first, and during this time only a small quantity of the product is produced. Sometimes a successfully test-marketed product will receive more orders than initially produced. This creates a back-order situation, and often results in longer delays. Once the product goes into full production, early back orders are no longer a problem. If you see reviews prior to July 2014 complaining of slow shipping for Bright Eyes Blanket, it is likely that those early delays were due to orders outnumbering the test marketing run.
Keep in mind that in September 2014, the FTC instituted a new rule which requires consumer consent before placing an item on back-order if that means the product will take over 30 days to ship.
Alternatives and Similar Products
The past few years have seen an avalanche of new products that are glow-in-the-dark, plush, or character themed. Such products include Hideaway pets, Light Up Links, Stompeez, Stretchkins, J-Animals, Lumi Dough, Flashlight Friends, Seat Pets, Pillow Pets, Flipeez, and Ball Pets – just to name a few. Bright Eyes Blanket appears to have elements similar to Flashlight Friends, Flipeez Hats, and Hideaway Pets.
Popularity
As you can see from the Google Trends chart below, Bright Eyes Blanket only began showing up in Google searches around June 2014. I am guessing that this product will continue to increase its advertising with the approach of cold weather and the holidays.
Bright Eyes Blanket Video
Below is a short video giving you a first look at Bright Eyes Blanket. I demonstrate the unboxing (which you'll need scissors, by the way), and unfolding of the product. I also show that it measures 42 inches, and you can see how long it is on the adult model (which would be me). There is also a short scene showing the eyes and ears glowing.
Conclusion
Bright Eyes Blanket will probably be best suited for smaller kids who will appreciate the product's features most. I wouldn't rule out the occasional adult enjoying one of these as a guilty pleasure, but it's probably too small to function as a true blanket.
Your Reviews
Have you tried Bright Eyes Blanket? Tell me your thoughts in the comments below.