DohVinci Reviews: How Well Does it Work?
Sponsored Links:

Sponsored Links:

About DohVinci
DohVinci, by Hasbro, is a sort of high-end Play-Doh product for older kids. While traditional Play Doh is appropriate for ages 3 and up, DohVinci is slated for those 6 and older. Marketed primarily to girls, it allows the consumer to make artistic creations using what appears to be a special type of Play-Doh.
DohVinci is not just a single product, but a line of kits and accessories. Girls can choose from such creations as "Memory Masterpiece" which is a decorative ribbon board, a vanity, or a "Flower Tower." A range of accessories are also available to enhance or expand the DohVinci experience.
The packaging for kits include your display item, tubes of colored doh (referred to as "Deco Pops"), styler gun, pop-out decorations, and instruction sheet. Although most people will purchase a DohVinci kit, which is essentially a one-time use item, you can purchase additional tubes and extend your decorating onto other items such as flower pots, picture frames, glasses, etc.
In 2015, television ads featuring a new color mixer began airing. The color mixer is a wheel which allows multiple pops to be combined to create unique colors.
DohVinci is made in China and contains a wheat warning.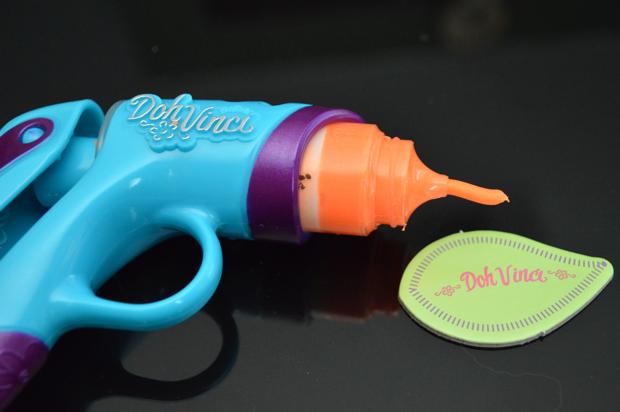 Cost
DohVinci kits cost around $13 to $20, while accessories can range anywhere from $4 up to $30.
DohVinci is widely available in stores such as KMart, Target, Toys R Us, and Walmart. I picked up the Memory Masterpiece at Target for $12.99 in mid-2014. I also saw the Flower Tower and several other accessories available, but I did not see the vanity. Although DohVinci was a relatively new item at the time, I was surprised to find a Deco Pop 4-pack in the clearance section for $1.06. If you just want the styler and tubes, there is a styler kit available for about $8.
Observations
I had a young lady assist me in my evaluation of the DohVinci Memory Masterpiece kit. The total time spent from unpackaging to completion was about an hour. Your time may vary greatly. If you purchase a DohVinci kit, be sure to save your styler, as you can purchase additional Deco Pops and decorate other items in the future.
During our evaluation, I noted the following pros and cons:
Sponsored Links:
Pros
It's fun. Despite using a styler gun and the crafty feel of the product, it's still Play Doh, and this product brings that experience to an older crowd.
Attractive. Even if your creation isn't perfect in the end, the bright colors and overall design will likely still be an attractive keepsake to display.
Ease of use. The design and execution of the product are simple. You simply pop out your cutouts, load a Deco Pop into the styler, and have at it.
Cost. $13 doesn't feel like a huge investment for a home-decorated picture frame.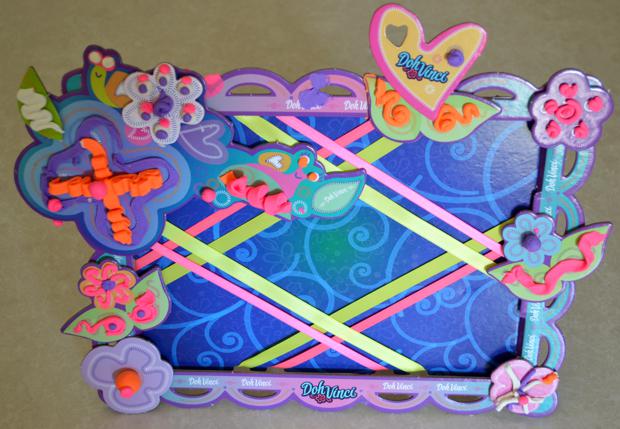 Cons
Difficulty. Making your creation look as good as that shown on the box will not be easy for most people. The box even contains a disclaimer that reads, "Results vary depending on child's age and level of skill."
Strength. While I think most kids should have no problem operating the Styler gun, there is a certain steady pressure that must be maintained in order to create an even flow. How well this can be achieved will rely in part on the strength of the operator.
Patience may be required. It will require time, patience, and skill to achieve results that match those depicted in advertising. If your child's goal is to have a high-quality display, it will probably take some time to create.
Other
Learning curve. While using the product at first seemed a bit awkward, you will probably "get the hang of it" after a short period of time. Our initial test of the product looked quite sloppy, while the end results appeared much more artistic in comparison.
Staining. I didn't find DohVinci to stain, but Hasbro does warn that staining is a remote possibility.
Drying. In the arid Las Vegas climate, I found that DohVinci hardened overnight as the instructions indicated. It appears from the FAQ on the product's website that it hardens differently in some environments.
Video
Below is a short video which recaps our review of the product.
Google Trends
The Google Trends chart below shows search interest in DohVinci. As you can see, interest began increasing in June 2014, with a peak occurring in November of that year. After a steep decline, a new television advertising campaign sparked another surge in interest in the product by April 2015.
Bottom Line
Even if your final product doesn't resemble the virtuosity displayed by those who decorated DohVinci for the packaging, it's still a fun project and gives your child something attractive to display.
Provided you and your child understand that it takes skill and patience – and it may not look as good as the packaging – DohVinci is a great way to extend Play Doh fun into the later childhood years.
Your Doh Vinci Reviews
Have you or your child used DohVinci? Drop me a comment below and let me know what you think of the product.
Originally published September 2014
Revised April 1, 2015