Copper Fit: My Review of Pros and Cons (Mar. 2015 Update)
Sponsored Links:

Sponsored Links:

What is Copper Fit?
Copper Fit is the latest entrant in the copper compression wear industry, perhaps most notably represented by Tommie Copper. The product's advertising focuses on joint pain and swelling which can supposedly be relieved by wearing one of these sleeves.
The official website is getcopperfit.com, which was registered in February 2014. By late 2014, Copper Fit Socks were being marketed separately, and can be found at copperfitsocks.com. That domain was registered in July 2014. In October of 2014, Copper registered another separate domain for their Copper Fit Back Pro at copperfitback.com.
At some point in mid-2014, Brett Favre became a highly-visible spokesman for the product on the websites and in television advertising.
Cost and Returns
When you order direct, Copper Fit sleeves cost about $19 plus shipping, while Copper Fit Socks cost about $10 plus shipping. There is a 30-day money back guarantee, minus shipping. This means if you return the product, you will still be out shipping costs.
Also keep in mind that you can only order sets of 2 elbow sleeves or 2 knee sleeves. You can't mix and match the sets.
Copper Fit products are available in stores. I spotted a small section of the sleeves for sale at a Fry's in Las Vegas for $9.99 each. You can also find them at such retailers as Walmart and Bed Bath and Beyond.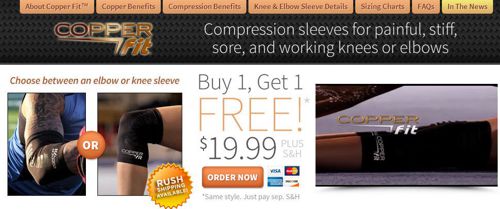 Does Wearing Copper Provide Health Benefits?
The Copper Fit website cites a 2011 study entitled "Metallic Copper as an Antimicrobial Surface" as proof that copper is used for "many purposes." That study, however, focuses on copper as an antimicrobial agent, primarily in a hospital setting on surfaces such as doorknobs, faucets, and bed rails. It does not assert that wearing copper can lead to any type of pain reduction, which is a benefit Copper Fit is said to provide. The study also did not use copper garments in its assessment of copper as an antimicrobial agent.
Further, a 2013 double-blind study found that wearing copper straps or bracelets had no meaningful therapeutic effect.
For a more thorough look at the alleged health benefits of wearing copper, I recommend the following article: Does Wearing Copper Provide Any Health Benefits?
Although the advertising for Copper Fit focuses on its ability to relieve joint pain and swelling – and mentions "therapeutic copper" in television ads – product details on the official website primarily notes copper for its ability to reduce odors and sweat.
Television Commercials
This television ad for Copper Fit ran in heavy rotation in early 2014.
Transcript of the TV commercial above:
Where's your pain? "Right here." "Right here." "Both elbows."  Take on the pain! Introducing Copper Fit. Advanced cutting edge compression garments designed to help relieve muscle and joint soreness. "Where has this been for the last few years? If I can put this to the rigorous test of an NFL athlete and it can work for me with all the joint pain that I've had, it will definitely work for you. I've pushed this product to the max and it performed great at every level." Helps reduce swelling for faster recovery." Copper Fit has helped me a lot and I've seen a huge difference. The pain I was having literally felt like someone was stabbing me in the knees. I've pretty much lost all hope. They said you need to quit, it's not going to get better, I refused. To me, I feel really good inside and I have accomplished something and Copper Fit has helped me do that." The Copper Fit high performance compression fabric is blended with therapeutic copper essential to your body. Two technologies combined to help provide support for muscle soreness and aid in recovery and performance. Faster recovery and guaranteed relief of muscle aches and pains. "I definitely recommend it to anybody to give it a try that has pain. I noticed that a couple of days after it didn't really hurt, and I was like wait is this real? This is very real, and just with the Copper Fit, honestly for the first week, I noticed results." Comfortable, light-weight compression sleeves tough enough for any active lifestyle. "Construction isn't light duty. I couldn't pick up a gallon of milk. Within a few days of using Copper Fit, mobility in my arm was a hundred percent better. It's almost like winning the lottery." Don't make your body wait another minute! Or on the web at getcopperfit.com. Get your choice of one compression elbow sleeve or knee for $19.99. Order now and you'll receive a second sleeve free. "Try the Copper Fit and watch your life change!" Feel the reliving power of Copper compression, feel the power of Copper Fit! 

Sponsored Links:



In late 2014, the following television commercial featuring Brett Favre could be found running on sports channels, such as NBA TV. This ad is specifically for Copper Fit Socks.
Observations
I first reviewed another copper-based product – Tommie Copper Compression Wear – in early 2013. During my evaluation of that product, I considered the question of the alleged health benefits of wearing copper as suggested in the advertising. In mid-2014, I also looked at another copper-infused garment, Miracle Copper Compression Socks. That product is advertised as a solution to tired feet. When I noticed Copper Fit compression sleeves advertising on television, I decided to evaluate them to see how they measure up to the competition.
I found the knee sleeve to be comfortable, and I felt that it provided ample support and compression. As with Tommie Copper, it is difficult for such a product to live up to the bold advertising hype. A compression sleeve can only provide limited relief for any condition… yet claims such as "Try Copper Fit and watch your life change" can be heard in the product's advertising.
What I like about Copper Fit (and Tommie Copper) is that it provides a similar amount of compression and support as bulkier sleeves, yet allows for considerably more flexibility.
Most of the complaints I've heard regarding Copper Fit relate more to the shipping and up-selling than the product itself. Some consumers have been confused by the order page, and accidentally ordered 4 sets, thinking they were only ordering two sleeves. This means their cost was about $70 for 4 sleeves. This could be easily remedied if there were a confirmation screen before finalizing the order. Unfortunately, Copper Fit – and many other products online – do not offer the luxury of a confirmation screen, leading to unnecessary consumer frustration and charges.
Compression wear is big business, and high-profile celebrities are endorsing and using such garments with increasing frequency. Copper Fit features endorsements by such athletes as the Brett Favre, NFL's Bruce Davis, gymnast Sugar Tiner, and track star Tahira Kasai.
It appears that some recent advertisements have backed way from the "miracle healing powers of copper" as touted by earlier commercials. The current Brett Favre ad, for example, primarily focuses on the wicking anti-sweat and odor-resistant properties.
Upselling
One complaint cited online is that when you call to place your order – or when they call you back to confirm your order – you may be subjected to up-selling, such as a $100 gas card for just a buck. While this gas card may only cost $1, it also enrolls you in a recurring savings club subscription which may be a nuisance to cancel.
Other Considerations
I discussed compression garments with a doctor earlier this year. He warned that such products could lead to some individuals pushing sensitive areas into injury. There are times when a sore joint is better off rested than used with a compression sleeve.
My Video Review
Below is a very short video summarizing my thoughts above, and showing the Copper Fit elbow sleeve in action.
History
Below is a Google Trends graph which displays chronological interest in Copper Fit. Interest in Copper Fit surged starting in March of 2014 with interest peaking in February/March of 2015.

Bottom Line
I use compression garments and I believe they provide a modest amount of relief and support. The marrying of compression products with copper could leave some consumers with the impression that there are additional pain and swelling benefits due to the addition of copper. This belief could also be bolstered by those who remember advertisements for copper bracelets a few years ago which made an array of unfounded and impossible claims. Copper garments have not been proven to provide any pain relief.
Athletic compression garments are increasingly popular, and Copper Fit is one of the more high-profile entrants in this growing industry, bolstered by a heavy marketing campaign and celebrity endorsements. I have found the relief and comfort provided by a Copper Fit knee sleeve to be modest, and on par with Tommie Copper.
You may want to shop around at your nearest athletic shop for alternatives, as there are many competing products on the market, and Copper Fit can be found at local retailers.
Overall, I think Copper Fit is a fine addition to the athletic compression industry. The company would be best served to add a confirmation screen to its order page. This would prevent its reputation from being diminished by an ordering process which has been frustrating to some customers – many of whom have gone online to post negative reviews before even receiving the product. And if you have joint pain, consider resting it rather than donning a compression sleeve and taking a chance of injury. It is my opinion that compression sleeves are better for preventative support rather than a remedy for existing joint pain.
Your Turn
Have you used Copper Fit Compression Sleeves? Give me your thoughts on the product and advertising in the comments below.
Updated March 15, 2015
Originally published July 2014