Tommie Copper Reviews 2015: My Experience
Sponsored Links:

Sponsored Links:

In early 2013 I participated in a review of a Tommie Copper product. At that time, Tommie Copper was advertised primarily as a solution for pain relief. Since then the advertising of the product has evolved into a performance-enhancing garment, which has gained popularity among many pro athletes in recent years.
My overall initial impression of the product were generally positive, but I didn't feel it was the miracle that so many (cough *fake* cough *affiliate* cough) reviewers out there have claimed.
In the ensuing months, I've had the opportunity to continue using Tommie Copper products, providing me with a bit more insight on the product than the typical reviewer who has only worn it a few times. I have also had the ability to compare Tommie Copper with newer competitors such as Copper Fit.
My Experience: Knee Sleeve
My experience with Tommie Copper is limited almost exclusively to the knee sleeve, which I tested extensively and have worn ever since purchasing it in early 2013. Although my initial trial of Tommie Copper focused on its pain relief properties (as that is how it was advertised at the time), I have continued to wear it for athletic purposes. I find it to be comfortable and provides support, but I don't have expectations that it will magically cure my mild, chronic knee pain. It provides support and comfort, which is sufficient to me.
I should also point out that when I was in my teens, I played basketball obsessively, and occasionally I had to wear those bulky, stiff knee sleeves you could buy at the local drug store. While they seemed to help keep things in place, they also restricted movement and provided compression to the point of cutting off my circulation. What I like about the Tommie Copper knee sleeve is that it gives me a feeling of compression and support without the bulkiness or clamped feeling those unforgiving drug store sleeves provide.
Price-wise, Tommie Copper is somewhat expensive, and there are many other athletic compression wear products available locally for less, without additional shipping charges.
After my initial review of the product, Tommie Copper has expanded its catalog to include a variety of products, from ankle sleeves to entire shirts. The cost range is anywhere from $30 to $60.
Sponsored Links:
Benefits of Wearing Copper
There are those who believe that wearing copper bring health benefits, and this has been done for centuries. There is, however, little scientific evidence to support claims that wearing copper provides any real health benefit. Skeptics may claim that including "junk science" could work against a company's reputation, and it does seem that the company has backed away from their initial infomercials extolling the virtues of wearing copper. In fact, it seems that those selling copper-infused athletic wear (Tommie Copper, Copper Fit, et al), have begun to market the inclusion of copper as a means to reduce odors and sweat, rather than the "healing powers" as originally stated.
If you believe that wearing copper provides a health benefit, then that is probably another reason to try Tommie Copper.
Tommie Copper Alternatives
The compression wear industry has grown considerably since I participated in my original evaluation of Tommie Copper. There are other players in the game which easily rank alongside Tommie Copper at more competitive prices. There are, of course, products out there that are more expensive than Tommie Copper, too. If you're completely on the fence, you may want to visit a local sporting goods store and peruse their offerings. A Dick's Sporting Goods store here in the Las Vegas Valley has a decent selection of compression wear, with a wide range of prices. Popular competing brands include Spanx, Skins, and Shock Doctor. It will pay to shop around.
On television, you have probably seen Copper Fit or Miracle Copper Compression Socks advertising similarly to Tommie Copper. A product called Copper Wear has also been seen advertising in recent months.
What happened to Montel?
When I first evaluated Tommie Copper, it was being pitched in half-hour infomercials featuring Montel Williams. Since then, his likeness has completely disappeared from the website and marketing. New infomercials show no sign of the celebrity, and none of the company's YouTube videos feature Williams.
Below are screenshots from an old infomercial featuring Montel Williams pitching it as a pain relief product, and a newer one which touts the product as athletic wear.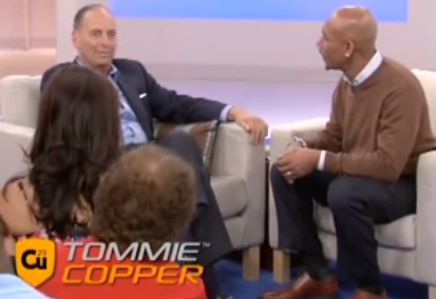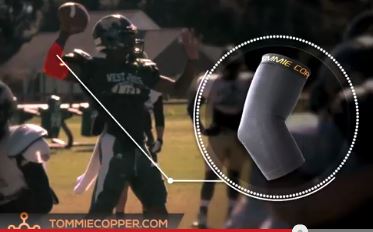 Conclusion: Realistic Expectations
Tommie Copper's original advertising focused on pain relief, and presented it as a means to solve very complex pain problems. It is now advertised more as athletic compression wear, which seems a better fit for the product.
I did not find that it solved anything, but the compression did provide a certain amount of comfort. Those who take the advertising at face value may not be satisfied with Tommie Copper, because a compression sleeve can't fix a chronic joint problem. It can provide some comfort and relief, and for that Tommie Copper is a pretty good product.
Revised April 7, 2015
Originally published March 2014