Janimals Review: Observations on this Strange Product
Sponsored Links:

Sponsored Links:

About Janimals
Janimals – sometimes written as J.Aniamls or J-Animals – are marketed as wearable stuffed animals. The product appears to be relatively new, as the domain buyjanimals.com was only registered in January 2014.
There are five different styles of Janimals offered: cat, dog, zebra, giraffe, or unicorn. It comes in 3 sizes: Small, medium, and large, which is measured by the wearer's height. The smallest size fits children as small as 36 inches, while the largest will accommodate adults up to 66 inches.
Here is a screen shot of the website, taken in June 2014. As of December 2014, the website remains unchanged.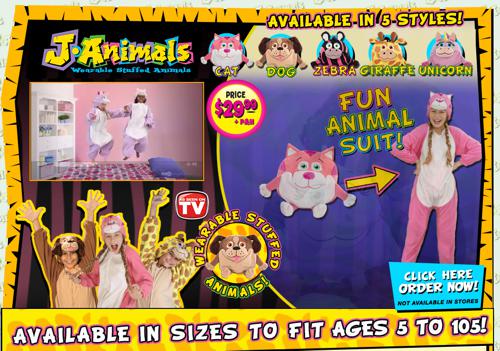 Janimals cost $29.99 plus shipping. A Facebook page for Janimals noted in June 2014 that "J-Animals are starting to hit shelves at Toys R Us, Target, Wal-Mart and K-Mart!" Indeed, the product can now be found at such retailers for about $30.
Below is a television commercial for Janimals which has been running since early 2014.
My Janimals Review and Observations
My first thought upon seeing this commercial was that of Ralphie wearing the iconic pink bunny costume in the film A Christmas Story. Then I realized that this bizarre product was being marketed as something to be worn by older kids and even adults.
While the television commercial depicts older kids and adults, the jingle and annoying announcer's voice are clearly aimed at children.
While I understand the rise in popularity of cosplay, I'm not sure that a product advertised on national television will find many cosplay converts via this product. As a parent myself, I understand that younger kids like "weird" products (think Stretchkins), and this will likely appeal to that demographic. And of course you may get older kids brave enough to don one of these for the humor and shock value. For adults, however, I don't see many adding Janimals to their wardrobe, with the exception of their Halloween costume collections.
When I first posted this review, Janimals reviews were scant, presumably since it was such a new product. In the ensuing months, reviews have trickled in from a variety of sources, and – perhaps surprisingly – are relatively positive. Most of the Janimals products on Amazon are rated about 4 stars.
Perhaps the area of greatest concern for those considering purchasing the product is in the construction. The primary complaint about the product that I've seen is that it tends to run big, so you should be careful in selecting your size.
Sponsored Links:
Janimals have been the topic of discussion online with the hashtag #janimals on Twitter yielding some rather entertaining comments.
J.animals….I just saw this commercial for them and I have decided that people just want to see this world burn #janimals #saddaytobeahuman

— Jazlyn Morgan Rust (@jazlynrust1297) June 21, 2014
A note on the Janimals jingle
It has been pointed out that the jingle for Janimals: "Janimals Janimals wearable stuffed animals" greatly resembles the opening lines of the Narwhals song: "Narwhals Narwhals swimming in the ocean" – which has received nearly 40 million views on YouTube as of this writing. Not only is the melody similar, but the Janimals commercial also has the words appear on the screen, just as they do in the Narwhals song.
Alternatives to Janimals
Some viewers have pointed out that Janimals are very similar to a product called Kigurumi, which is available for adults and kids and has been around for several years. These are perhaps more "stylish" (if that's possible). Kigurumi from this Canadian vendor are also offered in with many more design options – and cost about $70. Wikipedia describes Kigurumi as:
Kigurumi also is used to describe full-body hooded animal pajamas styled after animals or cartoon characters. Sometimes called "disguise pajamas" or onesies, the clothing is normally worn non-commercially as Japanese street fashion or as sleepwear, and is not intended to function as a performance costume. The pajama outfits are made of fleece material, usually in an oversized "one-size-fits-all", and conforms to the body in the manner of normal clothing. The hoods do not cover the face.
History
The Google Trends chart below shows the search history for the term "Janimals" and as of December 2014 it appears to be experiencing a marketing surge.
Bottom Line
To adults, Janimals probably just seem strange, but for younger kids Janimals make sense. As a product marketed to older kids and adults, Janimals may be one of the strangest products on the market in 2014. Most adults who aren't familiar with cosplay/kigurumi would only see this as a Halloween costume. Some teens may partake for the joke or shock value, while young children may be drawn to the product for obvious reasons.
I suggest purchasing locally to avoid shipping costs and delays – and to give you a feel for the size, which many have said runs rather big.
Have you used Janimals or Kigurumi? Let me hear from you in the comments below.
Updated December 12, 2014
First published June 2014