Live Butterfly Garden Reviews: Does It Work?
Sponsored Links:

Sponsored Links:

About Live Butterfly Garden
Brought to you by Insect Lore, a butterflies-by-mail company since the 1960's, Live Butterfly Garden is the company's current As Seen on TV offering. It allows children to watch caterpillars grow into live butterflies.
The advertised website is livebutterflygarden.com, which was registered back in 2009. Insect Lore's primary website, insectlore.com, has been around since 1996. Below is a screen shot of the advertised website, taken in July 2014.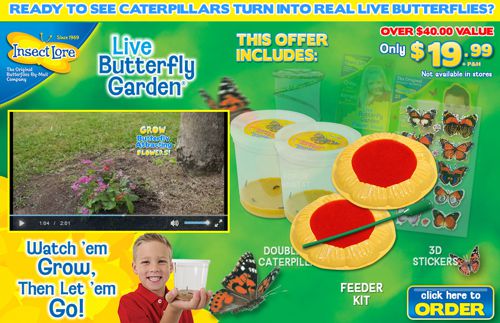 How Much Does Live Butterfly Garden Cost?
This product costs $19.99 plus $7.99 processing and handling for a total cost of $27.98.
In stores such as Toys R Us, you can find the product for about $17, but it does not come with caterpillars – only a voucher to receive your caterpillars in the mail. This costs an extra $5. The As Seen on TV version contains 10 caterpillars, while the in-store kit includes 5.
The kit advertised on television includes a pop-up habitat, caterpillars, 3D stickers, quick guide, seed packet, and feeder kit.
How it works
Caterpillars arrive in a cup (which should not be opened until they are ready to be moved). After they have grown and attached themselves to the top of the cup, they are transferred into the pop-up habitat (which feels much like a miniature mesh hamper). After about 10 days, they will then transform into butterflies, which can be kept in the habitat or released outside.
The kit also includes seeds for "butterfly attracting flowers."
Note that shipment of larvae may be suspended in extreme weather in order make sure caterpillars will arrive safely.
Sponsored Links:
Live Butterfly Garden Reviews
On Amazon, reviews date back over 10 years on similar products by Insect Lore. The most recent comments are somewhat mixed in their assessment of the product. In some cases, customers received dead caterpillars, thus expressing discontent with the product. Others found the product worked perfect as advertised.
If you are ordering from a third party vendor, be sure to verify if you are ordering a kit with or without caterpillars included.
Advertising
The As Seen on TV commercial does not appear to make any deceptive claims. The product is generally received as advertised.
My biggest concern with the product is not regarding the advertising, or even the product itself, but a lack of information on the advertised website. I found myself referring to the customer service and FAQ sections of the official Insect Lore page in order to answer many of the questions I had about the product. And, although one would assume that the information supplied at insectlore.com would be applicable to the As Seen on TV product page, it isn't completely clear. For example, Insect Lore has a guarantee that "two thirds of the caterpillars will become adult butterflies." I did not find this guarantee on the livebutterflygarden.com website.
Bottom Line
Reviews for the Live Butterfly Garden are generally positive. The biggest complaint is that the caterpillars required for the product are shipped separately and incur an additional $5 charge, but this is not the case if you order the As Seen on TV version of the product. In rare cases, caterpillars arrived dead, and contacting Insect Lore immediately in such a case may be your best option.
Live Butterfly Garden has been around of years in various incarnations, and reviews are generally positive. I would feel comfortable ordering from this company.
Your Reviews
Have you used Live Butterfly Garden? Let me know what you think in the comments below.