Snackeez Can Toppers: How Well Do They Work?
Sponsored Links:

Sponsored Links:

Snackeez Can Toppers
This is my preliminary evaluation of the product, which I have ordered and currently await its arrival. This review will be updated after I receive and fully evaluate the product.

Can Toppers are the latest offering under the Snackeez brand. The original product, simply called "Snackeez," is a drink cup with two compartments (for drink and snack), enabling a drink and snack to be held in one hand. Now with Can Toppers, consumers do not have to empty the contents of a soda can to take advantage of the Snackeez benefits. You simply snap on the Can Topper and include your favorite snack.
You can get Can Toppers in red, blue, and green. It is not yet available in stores.
Can Topper is essentially a plastic cup with a bottom designed to fit over beverage cans, and a slot through which a straw can be passed. This slot allows access to the drink underneath the snack area.
The official website is cantoppers.com, which was registered in June 2014.
Snackeez Can Topper Cost
This product costs $9.99 plus $5.99 shipping, for a total cost of $15.98. A second Can Topper is included for free with no additional shipping costs.
When I placed my order, there was also tax of $1.29, bringing my grand total to $17.27.
There is a 30 day money back guarantee, minus shipping.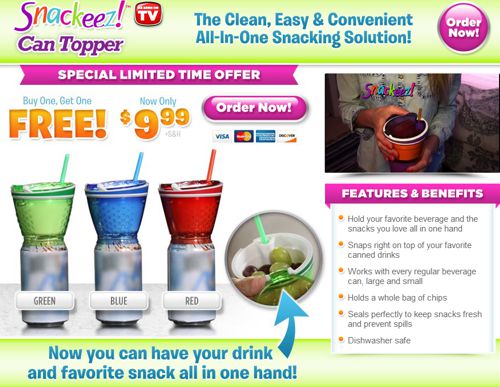 Claimed Features and Benefits
The website and television commercial claim that you can hold a beverage and snack in one hand. The product is said to fit with any size beverage can, and the cupped compartment can hold a "whole bag of chips." The product is said to seal "perfectly" to prevent spills and keep snacks fresh.
Can Toppers Reviews
The primary difference between regular Snackeez and Can Toppers is that regular Snackeez comes with compartments for both a snack and a drink. Can Toppers only comes with a compartment for a snack, and the drink is to be held in its original container.
Because this product is new, reviews for it are lacking. I placed my order on July 31, 2014 and will update my review when the product arrives. Until then, I have included my initial observations, based solely on the website and advertising. These observations include:
Sponsored Links:
Value. It appears that a Can Topper is a small piece of plastic with a nested plastic compartment inside. Does this seem like a good value for the price?
Necessity. How useful is this product? While the idea of holding a drink and snack in one hand may be appealing, will this be something a consumer will finds valuable over time?
Function. How well does the product maintain its seal on a beverage can? Does this function degrade over time with multiple uses and washes?
Note on ordering
When ordering, be very careful when selecting a quantity, as the product is sold in sets of two. If you select "2" from the drop-down – thinking this will include your paid and free items – you will actually be purchasing two sets of two for $31.96. To avoid this confusion, be sure to select "1" from the drop-down box. While you're at it, you may want to un-check the selection to receive promotional offers from Idea Village.
Up-selling
After placing your order, you'll be asked a series of questions in an attempt to upgrade your order.
First you'll be asked if you want any additional BOGO sets. You will then be asked if you want to purchase specially designed straws at a cost of $5.99 for 20.
Because you will want to use your Can Toppers again and again, we'd also suggest adding a pack of our fun, colorful straws to your order. These straws are specially-designed for your can toppers and you won't want to be without them! A pack of 20 is just $5.99, charged to the same account, and the shipping is free!
Finally, you'll be offered to purchase the original Snackeez Cups for $10.99 plus $4.99 shipping.
Backorder
11 days after placing my order, I received the dreaded "backorder" message:
Your order is on backorder. Your order will be processed as soon as inventory is available. Your credit card will not be charged until your order ships. Once your order has shipped, you will receive a shipping confirmation email with tracking information.

You can click here to check your order status at any time.

Thank you.

Snackeez customer service
I have found that many As Seen on TV products are often placed in "backorder" status during the test marketing phase. I believe this is because the product was probably only produced in very small quantities in order to test market it. I'll continue to update this space as my order is updated.
Canceled
On October 28, 2014, I received final confirmation that my order had been canceled:
Your order XXXXXXX has been canceled. Please note that your creditcard has not been charged.
Conclusion
Snackeez Can Toppers was a product test marketed by the makers of Snackeez. It does not appear to have made it out of the testing phase. My order was marked as canceled nearly 3 months after placing my order.
If you were one of the few people who actually tried Snackeez Can Toppers, tell me about the product in the comments below.