Zippy Sack Reviews: Is it a good buy? (Dec. 2015 Update)
Sponsored Links:

Sponsored Links:

Zippy Sack
This product slips over a mattress and includes a sleeping bag-like "pocket" in which the child sleeps. This pocket is unzipped to allow the child to get into bed, and then zipped back up to "make" the bed. One benefit of this product is that covers won't get strewn across the room, and making the bed should be a relatively quick affair.
Zippy Sack originally came in four designs: puppy, kitty, panda, or dino. An additional five designs were added later, which include robot (Jan. 2016), pony, camo print, flower print, and unicorn (Jan. 2016).
The official website is zippysack.com, which was registered in November 2011. Three other websites have been used in test marketing: buyzippysack.com, ilovezippysack.com and zippysackfun.com. These domains now forward to zippysack.com.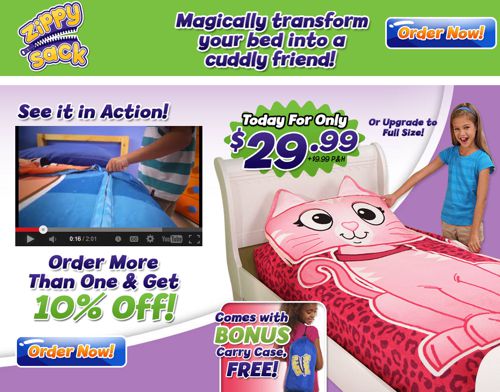 Zippy Sack Cost
The twin-sized Zippy Sack sells for $29.99 plus $9.99 shipping for a total cost of $39.98. If you order more than one, you will get a 10% discount. Full size Zippy Sacks are available for $39.99. A bonus carry case is included with your order.
Zippy Sack is available in stores such as Bed Bath and Beyond for about $30-$40.
Television Commercial
Below is the TV ad posted to the official Zippy Sack YouTube channel in November 2014.
I originally had a television commercial posted in October 2014 above. That ad has since been removed, but here is the transcript of the ad that ran.
"Sweety, did you make your bed?"

Hey kids. Ever hear that? Well now, it's as easy as a zip with Zippy Sack. Zippy Sack magically transforms your bed into a cuddly friend with just a zip and a flip. No more struggling to fit your covers between the bed and the wall. With Zippy Sack, you just zip and flip and it's no trouble at all. And, here's the best part. When it's time to slip inside, your Zippy Sack buddy comes alive.

Zippy Sack fits just like a fitted sheet. So easy and neat, there's even a pocket to hide your stuff! No more tossing your covers off and freezing at night. Zippy Sack stays in place to keep you bundled up tight. And, in the morning when you wake, just zip and flip, and Zippy Sack is simple to make.

"Zippy Sack!"

Night time, day time, Zippy Sack is your perfect playtime buddy. Zippy Sack goes on and off in a flash, so it's great to visits to Grandma's, sleepovers with friends, and even camping out. That's what Zippy Sack fun is all about. Zippy Sack fits on any bed or bunk, and is made of cuddly, machine-washable fleece. So when your mom or dad tells you to make your bed, just zip and flip instead! You can order your Zippy Sack to fit your mattress for $29.99, plus $9.99 processing and handling. Choose puppy, kitty, panda, or dino! As a bonus, we'll send you the Zippy Sack travel bag free with your paid order. And, here's something else fun! You can get a discount when you order more than one. Must be eighteen or older to order. You can log on at Ilovezippysack.com!
Zippy Sack Reviews
When I first wrote of Zippy Sack back in July 2014, the product was apparently in the test marketing phase. Reviews were difficult to find online, and the website went offline for several months. In November 2014, I received an email telling me that Zippy Sack was back, and it began appearing in television commercials in earnest.
My first attempt to obtain a Zippy Sack was met with a "back order" status, followed by the disappearance of the product's availability altogether. In the months since my original review, it has become readily available in stores, and consumer reviews are now ubiquitous.
For those considering the product, or if you have tried it and wish to write your own review, here are some of the primary considerations I have when viewing the advertising and the website.
Sponsored Links:
Comfort. How soft is the material, and how comfortable is it to sleep with this product?
Thickness. The portion of Zippy Sack used as a blanket is not very thick and is probably not warm enough for cold winter nights.
Alternatives. Are other similar product readily available locally for the same price or less? (See below for that discussion)
Durability. How does this product hold up under normal wear and tear, and how does it handle being washed and dried?
Is it a sack? A point of contention of some customers is that it's not really a "sack" but more like a fitted sheet with a zipper that allows the child to slip into it.
Tip on customer service: Some consumers have complained about slow or unresponsive customers service. The product's Facebook page, however, seems to have rather prompt responses, and may be a good place to present any questions or concerns.
Keep in mind that Zippy Sack still requires the bed to have a fitted sheet, otherwise the child will be sleeping on a bare mattress.
Alternatives to Zippy Sack
There is another As Seen on TV product similar to Zippy Sack called Zip It Bedding. That product was originally featured on Shark Tank and has also been marketed since 2014. It has mixed reviews and sells for about $10 more than Zippy Sack.
There is also what could be described as an adult version called the Levinsohn Travel Fresh Personal Sleep Sack, which works similarly to Zippy Sack, but is in white satin and designed for travelers.
The Original Dreamie All In One Sheet and Pillow Pocket is yet another adult variation of the zipper sack sleeping solution. That product has been around for several years and has a 4.3-star rating on Amazon as of this writing.
Although Zippy Sack closely resembles Zip It Bedding, there are differences, as summed up in this review.
August 2014 Ordering Problems (Now resolved)
In mid-August, many readers reported that the product was unavailable to order. The product's official YouTube video was also taken down, and social media pages were not to be found. I reached out to the company to clarify the reason for these changes, but did not hear back from them until November.
After some speculation, Zippy Sack returned, and it appears that they experienced some sort of back order or production concerns.
On August 13, 2014 the official Zippy Sack website was replaced with a single graphic which read "Unfortunately, we cannot take your order at this time. For any previous order inquiries please contact [email protected]."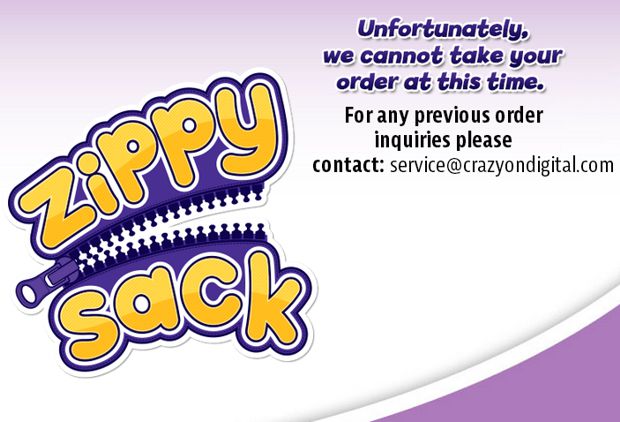 In my experience reviewing products over the last 6 years, this verbiage is unusual. Typically if a product is pulled from the market, potential customers will be told that it is simply no longer available. Nevertheless, the product returned in November 2014, was heavily advertised throughout 2015.
Conclusion
Zippy Sack is a product which appears to have been test marketed in the summer of 2014 and re-appeared in late 2014 with a full advertising campaign which ran throughout 2015. It is more like a zippered fitted sheet which keeps children covered throughout the night and keeps beds neat when not in use. It still requires a fitted sheet, but children seem to like it overall. Parents have suggested that it is not warm enough when used as a standalone blanket. You may want to evaluate it locally as it can readily be found in stores.
If you have tried Zippy Sack, please let me hear your thoughts in the comments below.
Updated January 9, 2016
Originally published July 2014