Squishy Sand Review: Does it Actually Work?
Sponsored Links:

Sponsored Links:

About Squishy Sand
Squishy Sand is the latest entrant in a category of indoor sand which has hit the market in recent years. It is advertised as soft and moldable sand which doesn't make a mess and won't dry out.
The official product website is squishysand.com, which was registered in January 2014, and the product is marketed by Wham-O.
Squishy Sand cost and availability
Squishy Sand is available in stores, although I had to hunt around for it here in Las Vegas in October 2014. The commercial states that it is "available at fine retailers everywhere" including Bed Bath and Beyond, Toys R Us, CVS, Walgreens, and Walmart. I had to call around to find it at a Toys R Us. My local Walmart said they did not carry it.
Squishy Sand costs about $14.99.
Television commercial
Below is a recent television commercial for Squishy Sand. It has been airing on kids TV channels such as Teen Nick.
Squishy Sand Review
As another reviewer of Squishy Sand pointed out, the product doesn't really do anything because it's just fake sand. But it is advertised as a way to bring sandbox fun into the home without the mess, so while it's true that the product doesn't "do" much, it is probably best to ask if the product achieves its advertised goals and provides lasting fun.
The box includes a 1.5-pound bag of Squishy Sand, a small plastic toy shovel, roller, and another piece of plastic for shaping.
Squishy Sand has more of a cookie dough texture than that of sand – including a slightly greasy residue left behind on your hands. There is also a chemical smell which I did not find to be pleasant, and it may be too strong for anyone sensitive to odors. The instructions advise you to wash your hands before and after playing with the product, and I highly advise this. Although the product is advertised as non-toxic, I would not be comfortable with my kids ingesting the residue this product leaves behind.
Sponsored Links: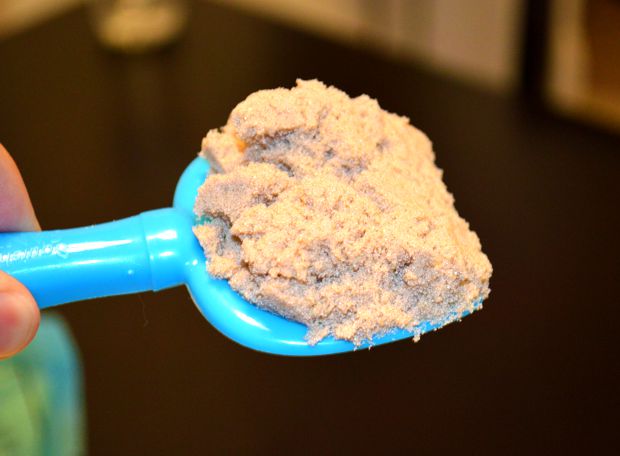 The Squishy Sand box felt misleading to me, as the contents barely filled half of the box. One would expect a mold to be included, but there is no mold to be found at all. Half of the box is filled with piece of cardboard which holds everything in place. The box is 7 inches tall, but the slab of sand inside is only 2 inches thick.
The part of the commercial which states that Squishy Sand cleanup is "fast and easy" features a child playing with the product on a carpeted floor. I would not recommend this because I found small pieces were left behind, and I would not be comfortable with its greasy residue on my carpet. Squishy Sand is also not recommended for use on wood surfaces. I suggest placing newspaper or something disposable down in the play area. For my demonstration in the video below, I used an old whiteboard, which worked well. I have seen other reviewers use plastic or glass containers.
Video Review
Below is my short video showing the unboxing of Squishy Sand, and brief use of the product.
Alternatives to Squishy Sand
Perhaps the most popular product in the same category as Squishy Sand is Kinetic Sand. That product has relatively positive reviews, although I have yet to try it myself. It is about the same price.
History
The Google Trends chart below shows interest in Squishy Sand throughout 2014. As you can see, it began rising steadily around October 2014.
Bottom Line
Squishy Sand appears to work generally as advertised. I'm not sure it is completely mess-free, as there is a greasy residue left behind, and – like real sand – it does have potential to scatter beyond the intended play area.
Your Squishy Sand Reviews
Have you tried Squishy Sand? Tell me what you think in the comments below.
Updated December 28, 2014
Originally published October 9, 2014