Foot Angel Reviews 2016: How Well Does it Work?
Sponsored Links:

Sponsored Links:

About Foot Angel
Foot Angel is an As Seen on TV compression sock (or "sleeve") which promises to combat such afflictions of the foot as plantar fasciitis or pain in the heel, arch, or entire foot. To the casual viewer, Foot Angel has the appearance of an open-toed compression sock.
What Foot Angel Claims
The television advertising and website both claim that Foot Angel can relieve a variety of foot, heel, and ankle ailments. It is said to improve circulation, soothe feet, and keep feet dry via breathable fabric. There are 7 "targeted zones of compression" which are areas within the sock that deliver different levels of compression.
What is Foot Angel?
Foot Angel looks like an open-toed compression sock, and is referred to as a "sleeve." It is not a one-size fits all, as found in some competing compression wear. There are two sizes: Small/Medium and Large/Extra Large. There has been some concern among online reviews that the small/medium may be too small for medium sized feet. The Small/Medium is said to fit women sizes 6-10 and men sizes 5.5-10. The Large/Extra Large is said to fit women sizes 10-13.5 and men sizes 10-13.
Foot Angel applies increasing pressure along the foot to help improve circulation and support. This is the standard design for compression socks, known as "graduated pressure." WiseGeek has a full article on compression socks and how they work.
Toward the end of 2015, a black version was included on the website. Previously, only white was available.
What Foot Angel Costs
Online. Foot Angel costs $12.99 plus $6.99 shipping. A second "free" sleeve costs another $6.99, but there is no way to opt out of this "free" addition. Your total online cost will be $26.97. If you decide to return it, you'll get your $12.99, but not the $13.98 in shipping costs.
In stores. Foot Angel has been available in stores since Spring 2015. As seen in the photo below, I spotted it as an As Seen on TV store at a local mall here in Las Vegas. It was available for $14.99. Although it's slightly more expensive than the online offer above, without shipping it is a much better deal. I've seen Foot Angel at other retailers for about $13.
Sponsored Links: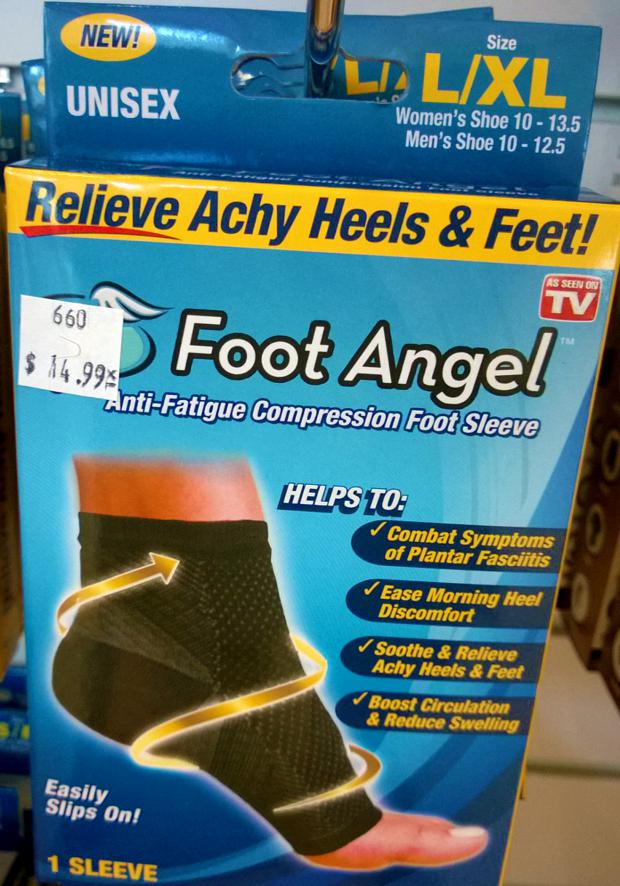 Foot Angel Reviews: Does it Work?
As with any pain relief or compression garment, satisfaction is going to be subjective based on the individual's use of the product and their underlying problem. Over on Epic.Reviews, the product has about a 3-star rating with over 400 votes. Over on Amazon you'll find similar results, with a 3 star rating from among 200+ reviews.
I purchased the Foot Angel shown in the image above, and found it to be comfortable and provide compression along the same lines as other compression socks I have used over the years. I found it to be comfortable and work about as expected. If you have tried compression socks and understand their benefits and limitations, Foot Angel may be a product to consider.
The primary complaint I've seen about Foot Angel revolves around the ordering process online. Simply buying locally will completely bypass any of these concerns. Because I purchased at a local store, I did not go through the online ordering process myself.
Another point which is worth noting is that Foot Angel is sold in packages of one, not in pairs. You'll notice in the photo above, the packaging states "1 sleeve." Thus, if you want a pair of Foot Angels, you'll be looking at about $26, which isn't unreasonable for open toe compression socks.
Alternative Products
There are a number of open-toed foot sleeves which advertise and perform similarly to Foot Angel. Consider this foot sleeve by CompressionZ which has a 4.5 star rating on Amazon, or the 4-star OrthoSleeve with nearly 900 ratings.
Conclusion
Foot Angel is a compression sleeve, similar to other open toe compression socks which have been available for many years. I found it to be comfortable and work as expected. Some readers have expressed concerns that the smaller size may not fit medium-sized feet well, but that is the only complaint I have encountered.
Because Foot Angel can now be found in stores, I recommend buying it locally in order to avoid shipping delays and charges.
Originally published April 2015
Revised January 12, 2016